STORY
Students make case for fossil fuel divestment to Board of Regents
After lengthy discussion with protest leaders, board members say they'll continue conversation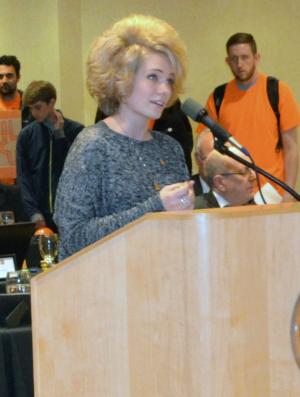 Cathy Beuten/University of Colorado
A student movement aimed at persuading the University of Colorado to end its investment in the fossil fuel industry stirred discussion at last week's meeting of the Board of Regents, which took no action on the matter.
Following student appearances during the public comment portion of regents meetings over the past several months, some members of the board earlier in February met informally with student leaders to discuss the issue. The board invited them to speak at last week's public meeting, which also gave university leaders an opportunity to address the matter.
With about 80 students in orange T-shirts – the color signifies the global effort Fossil Free– lining the walls of the meeting room at the University Memorial Center at CU-Boulder, one student leader from each of the four campuses outlined their objectives in a presentation.
The group wants CU to cease investment in fossil fuel companies and, within five years, divest from funds that include such companies.
Don Eldhart, CU treasurer, Chief Investment Officer and associate vice president for budget and finance, presented background on CU's investments, and noted that elimination of such funds from the university's portfolio would leave only 10 percent to 15 percent of the current fund mix.
"We have a very diversified portfolio with 10 managers … that have produced, I would say, pretty excellent returns over the last 15 years," Eldhart said. Investment return is one of the three obligations that must be met, he said, along with investment safety and liquidity.
He noted that funds screened for exclusion of the energy sector are an emerging product, but that they are newer, smaller and carry higher fees. Should those screened funds perform well in the future, though, they'd be considered for investment by the university.
Pat O'Rourke, vice president, University Counsel and secretary of the Board of Regents, reviewed regent policies and state laws that govern university investments. He stressed that the state forbids its public entities from direct ownership of oil and gas companies.
The students who spoke expressed a desire for CU to pursue support of environmentally sustainable energy.
"Imagine with me a brighter future," said Katie Raitz of CU-Boulder. "We as Fossil Free CU and the CU Board of Regents have the power to shape that world. … You all have the power to make that history." Earlier in the meeting, during public comment, Boulder student Anna Vallad spoke in opposition of divestment, saying the move would ultimately reduce access to education.
Board members praised the students for their engagement, but many noted the challenge posed by the complexity of the issue.
"Should (CU) align our investments with our values? My answer is yes," said Regent Linda Shoemaker, D-Boulder. "President Bruce Benson proudly points out that CU-Boulder is one of the greenest campuses in the country."
Still, she acknowledged, that when she and her husband debated the topic with regard to their foundation, they ultimately chose to maintain at least some fossil fuel investments.
"Change does not come quickly, and it comes through lots of conversations," said Regent Michael Carrigan, D-Denver. "I want to continue to have those conversations. … You've certainly piqued my interest."
Chair Kyle Hybl, R-Colorado Springs, said the board would take no action at the meeting, despite the students' calls to do so.
"Today is part of the fact-finding efforts the board is going to," he said. "We're going to continue looking at this."
In other business at last week's board meeting at CU-Boulder:
Cathy Beuten/University of Colorado

The board voted 9-0 to approve a new master of the environment degree at CU-Boulder. Regent John Carson, R-Highlands Ranch, said that because the degree is a professional master's degree – one responding to industry and marketplace demand – his earlier reservations about the new program were assuaged. Still, he said he plans to "track the intellectual diversity side of it" as well as monitor whether it becomes a financially self-sufficient program.
Chancellors of the four University of Colorado campuses have identified the metrics they plan to rely on for strategic planning across the system, with plans to present the data to the Board of Regents in July. The chancellors briefed the regents during their Friday meeting at CU-Boulder, following up on direction from the board during its January retreat. While the specific metrics vary from campus to campus, they include goals for non-tuition revenue, graduation rates, research funding and community partnerships, fundraising, and recruitment and retention of diverse students, faculty and staff.
The board welcomed two of the university's newest Distinguished Professors: Kurt G. Beam, Ph.D., professor, Department of Physiology and Biophysics, School of Medicine, CU Anschutz eMedical Campus; and Leslie Leinwand, Ph.D., professor, Department of Molecular, Cellular and Developmental Biology, chief scientific officer for BioFrontiers Institute, CU-Boulder. This was their first opportunity to be honored in person by the board since the regents named them and four others Distinguished Professors last November.