STORY
Strength in numbers: President Kennedy establishes National Security Advisory Group
Faculty experts from all four campuses join effort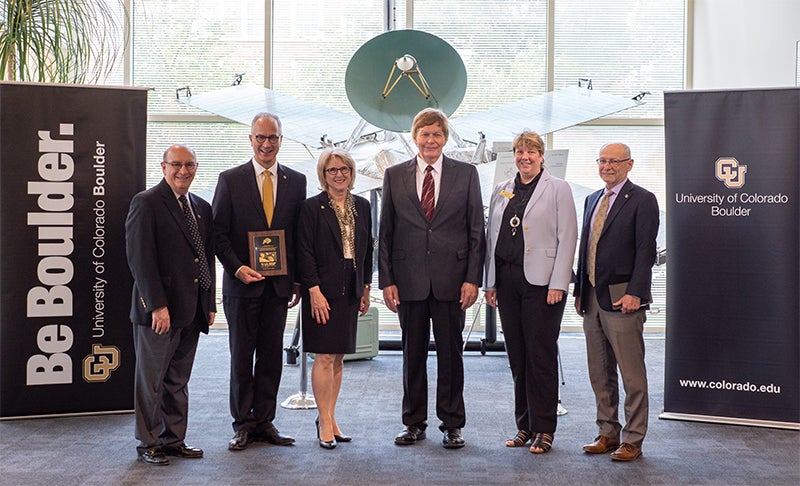 Even amid the havoc COVID-19 continues to wreak here on Earth, the sky's the limit for CU. Or more precisely, that limit extends to outer space.
Despite pandemic-related chaos and uncertainty, CU's commitment to learning, discovery, innovation and research remains steadfast. As a testament – and building on CU Boulder's National Security Initiative – President Mark Kennedy on Tuesday convened faculty experts from all four campuses for an initial meeting of CU's new National Security Advisory Group.
The group is tasked with identifying existing strengths and collaborative opportunities to enhance U.S. Department of Defense (DoD) funding for current and future national-security-related projects and initiatives, especially in space, medical care and cybersecurity.
"If we lean in together, I think there is an opportunity to leverage our assets and capabilities to expand CU's role in federal national security efforts," said Kennedy, noting that CU garnered just $49 million in DoD research funding in FY19 despite its broad capacity in research and workforce development, and close proximity to numerous DoD installations in Colorado. "The more we're coordinated, the better off we'll be."
Members of CU's Government Relations team briefed the group on the current federal landscape, providing updates on the effects of COVID-19 on legislative activity, FY21 appropriations and the status of the National Defense Authorization Act. The discussion then turned to CU's role in helping to position Colorado as the permanent home of U.S. Space Command – now temporarily housed at Peterson Air Force Base in Colorado Springs – as well as the pending creation of a space University Affiliated Research Center (UARC) supporting Space Command.
"I'm a firm believer that we should lead rather than follow," said advisory group member Dan Baker, director of the Laboratory for Atmospheric and Space Physics at CU Boulder. "I believe that we have, across the campuses and in this region, the strengths that would make Colorado a natural to lead in this domain."
In addition to its research, technology, cybersecurity and aerospace capabilities – as well as its industry partnerships – CU is well-positioned to work on Space Command's medical priorities, which advisory group member Vik Bebarta, director of the Center for Combat Medicine and Battlefield Research at CU Anschutz, outlined following a recent meeting with Space Command's medical leaders. These include evacuating injured individuals out of terrestrial orbit; caring and transporting patients from one planet to another; and medically and surgically resuscitating patients on the surface of other planets, such as Mars.
As the advisory group works to solidify its priorities, next steps include mapping CU's strengths and gaps for leading a UARC consortium; identifying universities with which to potentially partner in a consortium; and preparing to work on the RFP for inclusion in the UARC consortium, which is expected to be released this summer.
CU's National Security Advisory Group members were selected by each of the four chancellors as the leading experts on their respective campuses in areas such as combat medicine, cybersecurity, engineering and space awareness and defense. Members include:
CU Anschutz: Vik Bebarta, director of the Center for Combat Medicine and Battlefield Research
CU Boulder: Dan Baker, director of the Laboratory for Atmospheric and Space Physics; Iain Boyd, national security faculty director; Terri Fiez, vice chancellor for research and innovation; James Olson, executive director of national security research
CU Denver: Martin Dunn, dean of the College of Engineering, Design and Computing; Douglas Sicker, senior associate dean of computing
UCCS: Don Rabern, dean of the College of Engineering and Applied Sciences