STORY
Stimulus funds, partnerships top federal relations outreach efforts
Obtaining increased federal funding for research, product innovation, patient-care programs and capital improvements on University of Colorado campuses topped the list of priorities this year for the university's federal government relations staff.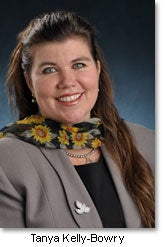 Tanya Kelly-BowryThe team also focused its efforts on lobbying for greater federal stimulus dollars for CU and strengthening relations with Colorado's congressional delegation, said Tanya Kelly-Bowry, the university's vice president for state and federal government relations.
CU's federal relations team follows a broad array of bills each year as they make their way through the U.S. Congress, including legislation that might be of interest to CU in areas such as health care reform, renewable energy, NASA, the aerospace industry, patent reform, cyber security and other issues.
"Far and away the most important issue for us-in representing the entire university system and working for the president's office-is federal research dollars. We're always looking for ways to grow, strengthen and increase our federal research funding and increase our visibility," Kelly-Bowry said.
A longtime and widely respected political strategist, Kelly-Bowry was tapped by CU President Bruce D. Benson to help raise the university's profile at the national level. Her federal relations team includes Senior Director David Sprenger, a former congressional staffer based in Washington, D.C., and Director Lynne Lyons, a longtime university employee and an expert in government relations.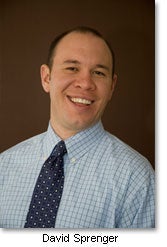 Sprenger advocates on behalf of CU-Boulder and UCCS, and the Denver-based Lyons promotes the interests of UC Denver's Anschutz and downtown campuses. They are supported by policy analysts Elizabeth Watkins and Connie Johnson in the Colorado office.
This year, the federal stimulus package the Obama administration set aside for job creation and research provides opportunities few major public research universities can afford to miss.
David Sprenger"The stimulus bill is truly a once-in-a-lifetime opportunity when it comes to increased federal support. The impetus behind it is job creation, and I can't think of a better example of job creation than a university," Sprenger said.
CU researchers submitted hundreds of grant applications in hopes of obtaining a share of the stimulus funding pie. Their grant proposals run the gamut from cancer research at UC Denver to particle physics at CU-Boulder, and from engineering scholarships at UCCS to a UC Denver program to improve math and science scores at Colorado middle schools.
Recently, CU engaged the services of the well-regarded Denver law firm Brownstein, Hyatt, Farber, Schreck (led by CU alumni Norm Brownstein and Steve Farber) to assist its efforts. The law firm will help CU set its funding priorities and develop strategies for tapping into even greater federal funding sources, according to the federal relations office. Lyons has received positive feedback from the chancellors, faculty and staff.
At CU, understanding the unique funding requirements for each of the university's campuses has become a top priority for both state and federal government relations staff.
"When you look at a university, it goes beyond student education and research. It goes to public-private partnerships and driving the economy. Universities play a unique role in that," Sprenger said.
To understand what each campus needs, federal relations liaisons meet regularly with chancellors, faculty researchers and other campus leaders to identify new funding opportunities. Lyons and Sprenger welcome contact from faculty members willing to share personal stories and research goals, which can help capture the attention of federal lawmakers.
"We don't want to interfere with what CU does best, which is bringing down federal research dollars," Sprenger said. "Our faculty are some of the best in the country when it comes to federal grants. We would not be in the position we are today if it wasn't for our faculty."
Recently, the federal relations office organized a series of campus visits for congressional staff and policy analysts to help drive home the message of how higher education contributes to Colorado's economic well-being and to introduce them to the work of some of the university's researchers. The office will invite the state's congressional delegation to tour CU campuses during the August recess.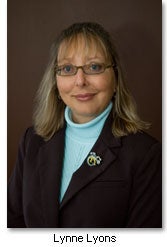 Lynne Lyons"One of the best parts of our job is getting together congressional members and their staff to meet with our exceptional faculty, and to be able to exhibit the great teaching and research done by our faculty," Lyons said.
The office worked with the state's congressional delegation to obtain support for the university's 2010 fiscal year appropriation requests. Among the highlights:
Some of the CU programs that have been submitted for federal funding support this year include a UCCS/Fort Carson treatment program to help returning Colorado veterans experiencing post-traumatic stress syndrome; the Linda Crnic Institute for Down Syndrome at UC Denver's Anschutz Medical Campus and the community prototyping lab on the Downtown Denver Campus; and the Colorado Schools Safety Program at CU-Boulder, which is aimed at preventing and stopping school bullying and violence.
Lyons continues to work closely with her University of Colorado Hospital counterpart, Jeff Thompson, to lobby for a rescission of the Indirect Medical Education, or IME rule. Â The IME cuts were to be phased out over the 2009-10 fiscal years, and if enacted would eliminate an estimated $1.3 million in annual Medicare support to UCH for its capital expenditures. She is working closely with UC Denver to ask Rep. Diana DeGette, D-Denver, to co-sponsor the Urban University Renaissance Act, which would provide additional resources to UC Denver and other urban research universities. Lyons also is lobbying for additional health professions funding in the U.S. Senate, and has secured the support of both Colorado senators.
Sprenger has worked to secure funding to expand the JILA institute at CU-Boulder, and continues to work with Colorado State University and the Colorado School of Mines to request that federal lawmakers designate a university transportation research center called the Colorado Transportation Construction Collaboratory, or CCTC. The collaboration would enable CU, CSU and the Colorado School of Mines to explore cost efficiencies and sustainability collectively, and to pursue the development and implementation of innovative transportation construction techniques and practices.