STORY
Staff members honored for service to campuses, greater communities
Four awardees received trophies and $1,000 prizes from UCSC at last week's All Staff Council Conference at History Colorado in Denver.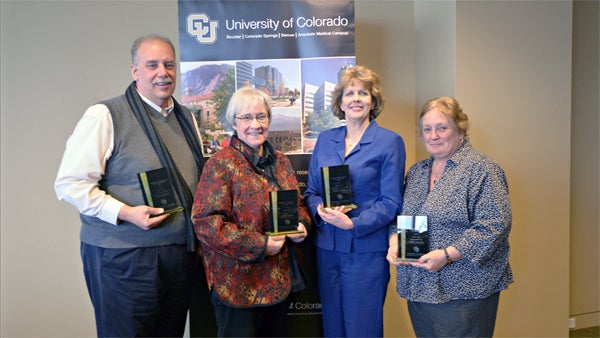 Cathy Beuten/University of Colorado
Four University of Colorado staff members were recognized for their service to the university, their respective campuses and the community during the University of Colorado Staff Council (UCSC) All Staff Council Conference on April 3 at History Colorado in Denver.
President Bruce D. Benson and chancellors from the campuses presented Service Excellence Awards to the honorees – one from each campus and system administration — during a luncheon ceremony.
Winners of the 2015 awards, which include a trophy and $1,000 cash prize, are:
CU Denver l Anschutz Medical Campus: CHARLOTTE KLAUS, associate dean, budget and finance, Skaggs School of Pharmacy and Pharmaceutical Sciences
As a 26-year-employee of the university, Klaus "exemplifies the spirit that this award recognizes," said Chancellor Don Elliman, who presented the award.
Klaus initiated the school's annual student/staff food drive 20 years ago, and has continued to lead and grow the program. This year, the drive collected nearly 2,000 items for the Colfax Community Network, a not-for-profit organization that advocates for and assists low-income families living in transient housing along Colfax Avenue.
In 2012, Klaus established a fund for students who had lost everything in an apartment fire, and encouraged colleagues to contribute. In another instance, when employees were given an opportunity to use work time to give back to the community, Klaus organized a campus effort to spend the time volunteering at the Food Bank of the Rockies.
"… Charlotte is the first person to jump in to help coordinate efforts, collect needed goods and/or financial donations," wrote her nominator, Jill Rogers, financial administrator.
On campus, Klaus has organized a number of groups to further networking and communication between people interested in achieving common goals. As an example, she was "the organizing force behind the creation of the Exempt Professional Association" and a subgroup of the American Association of Colleges of Pharmacy for financial officers. She has received numerous administration awards for her work in support of the school.
Klaus' volunteering includes working in a soup kitchen one day a month, leading food and holiday gift drives for her church, and for seven years, she volunteered for the Cherry Creek High School marching band as treasurer, cook, mover and first-hand organizer for competitions.
"It has been a privilege for me to serve the university all of these years both as an employee and in my volunteer capacities," said Klaus in accepting the award. "It's a great honor to be recognized."
UCCS: RALPH GIESE, director, Office of Residence Life and Housing
"Ralph Giese's service to the University of Colorado Colorado Springs campus and local community is quite extensive and far-reaching," wrote Stephen Linhart, dean of students and Giese's nominator. "While he performs his regular duties as the director of residence life and housing in an outstanding manner, what truly sets him apart is his commitment, hard work and compassion in his effort above and beyond his 'normal' work schedule."
Giese began working for the university in 2004. As director of residential life, "Ralph is available literally 24 hours a day to help hundreds of thousands of students who are in need, and they are in need 24 hours a day," said Susan Szpyrka, vice chancellor for administration and finance, who presented him with the award.
During the 2012 Waldo Canyon Fire, Giese led the campus effort to provide emergency housing for hundreds of people, including Air Force Academy cadets, firefighters and members of the National Guard. "Ralph basically didn't leave the campus during that time," Szpyrka said. He also is active in the Pikes Peak Chapter of the National Association of Mental Illness (NAMI) and the Pikes Peak Area Court Appointed Special Advocates (CASA).
He has offered support – in terms of time and financing – for events such as the Relay for Life, the Heart Walk and the AVON Breast Cancer Walk. He also is one of the founding members of the Ent Federal Credit Union UCCS Basketball Booster Club. As a member of the UCCS Campus LGBT Task Force, he liaisons with the CU system on policy, procedures and practices that affect all campuses.
Giese has served on numerous university committees and task force teams over the years, including the Student Achievement Award Selection Committee, the Annual Campus Significant speaker selection committee and the UCCS Facilities Master Planning Committee. He also served as a consultant for the development of the CU Denver housing initiative, which helped build its residence life programming.
"I'm very humbled by this, thank you," Giese said. "This week I was reminded even more about why we do what we do." He had spent the week interviewing students, "and to hear the students' stories … that is why we do this. It reminds us that giving of yourself is really important."
CU-Boulder: RANDI VIOLA, accounting, Alliance for Technology, Learning and Society (ATLAS)
"We all lead busy lives and it's easy to get caught up in day-to-day demands of work; however, there are some people here today who manage to make serving their campus and community a priority," said Chancellor Philip DiStefano. "For the past seven years, Randi quite literally has helped save lives."
Viola is the campus chair of the Bonfils Blood Center drive and she has helped push the program to its designation as a Top 5 donor group in the state and one of the top donor groups in higher education. She also has organized the campus's clothing and coat drives that help the homeless and victims of domestic abuse.
"Bonfils says each unit of blood typically helps three people," DiStefano said, "and this means that since she has been chair, she has helped 18,000 people."
Viola has served for the past two years as the Outreach Committee Chair and has overseen the organization of staff appreciation events for about 3,800 staff members. She also has served on several other committees to better campus amenities, including the Parking Rate Advisory Committee and the Chancellor's Executive Committee. She also has been instrumental in researching resolutions surrounding the tuition benefit upgrade and the Higher Education Flexibility Bill.
"I have developed a deep appreciation for her honesty and commitment to the campus … she is consistently patient, kind and responsive," wrote her supervisor, Jill VanMatre Dupre, associate director of the ATLAS Institute.
"I am very honored to be recognized here today and extremely appreciative of the greatest boss in the world, Jill Dupre, for giving me the opportunity to be able to pursue other things besides my day-to-day work," Viola said.
System Administration: SHELLEY BROWN, senior payroll analyst, Employee Services
Brown is a "very generous individual with a compassionate heart. She is passionate about bringing comfort to others," wrote her nominator, Angelica Throckmorton, program manager with Employee Services.
"She works in so many capacities," said President Bruce D. Benson, who presented the award. Brown has taken an active role in the workplace violence prevention program to raise awareness and maintain a safe working environment. She also is a member of the Continuity of Operations Plan team and has created a disaster preparedness plan to ensure employees can work remotely to prevent disruption if the downtown office is inaccessible for any reason. She creates training guides to document processes and procedures.
Outside the university, she volunteers with several organizations that help the homeless. She is helping her church establish a women's homeless initiative as it partners with seven other churches and the Volunteers of America Safe Haven Project. She also volunteers at the St. Francis Center, a daycare center housing 800 homeless men, and Family Promise, an organization that helps homeless families stay together until they can move to a better, more independent situation.
"I am very glad to work for an organization that recognizes this kind of work in the community. It makes me proud to work for CU," Brown said.
Staff Council has presented the Service Excellence Awards since 1999.
Before the luncheon, the conference hosted Janet Lowe and Kay Miller with Employee Services, Employee Learning and Development, who discussed ways to work efficiently and create and meet goals. The pair also talked about some of the development opportunities at the university.
UCSC has discussed the importance of professional development to staff members and the university, and is in the process of accessing what types of development resources are available to employees. Once the governance group has finished its study, it hopes to recommend possible options to the university that will allow staff to grow in their university roles and in future endeavors.