STORY
Staff Council brainstorms unconventional benefits of working at CU-Boulder
Governance group seeking additions to list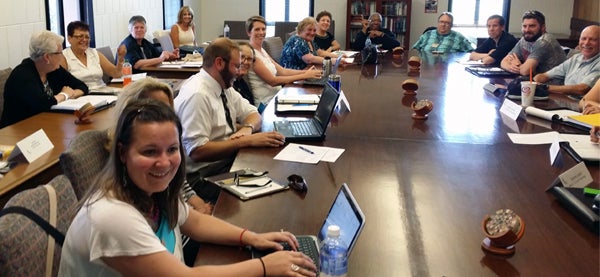 At the first FY15 Full Council Meeting on July 9, Boulder Campus Staff Council started light by taking 20 minutes to brainstorm the nontraditional benefits of working on our campus.
Below is a list of fun, educational and service-oriented activities that staff can enjoy (usually free) and that set CU-Boulder apart from other employers.
Please help us think of other benefits of working at CU-Boulder and send your thoughts to scouncil@colorado.edu. We'll post the list to our website and send a copy to HR, which has been working on tools to help with recruiting and highlighting CU-Boulder as one of the best employers in the area.
Fun and Educational Opportunities:
Access to several high-profile speakers each year.
Cultural events, music festivals and national conferences.
Art shows and occasional opportunities to display your own works of art
Theater and music (Tuesday night free concerts, Shakespeare festival).
Eco pass, CU-Boulder's commitment to sustainability.
Excellent transit system around campus.
Beauty of campus. It really pays to stop and just look around. She is looking great at 138 years old.
Amazing colleagues. We must like each other because many of us have married our colleagues and encouraged our children to work here.
Multicultural emphasis. We can meet the world without leaving campus by getting to know our international staff and students.
Skillsoft online training programs.
Fitness opportunities like CU Walks, Be Colorado, activities at Rec Center, Health Day for the Community.
Campus NCAA athletic events.
Being able to interact with our research departments during open houses and educational events.
Travel opportunities.
Opportunities to grow and develop a career or change career paths.
Service:
Given our busy lives, it is extremely convenient when we can serve others through our worklife.
Working on CU's mission of educating future generations.
Volunteering for dorm move-in.
Mentoring young people.
Marshal at graduation ceremonies.
Donate blood.
Usher at events like Shakespeare Festival.
Donate to various clothing, school supplies, personal necessities, etc.
Opportunities to serve and hold leadership roles on campus committees.
Guest teaching opportunities.
Departmental organization of service days in the community; Habitat for Humanity, trail building/rebuilding, etc.
Volunteer leave granted by the university for approved activities.
Also, we are still looking for ideas on great ways to welcome new staff to our work community, thanks to OCG (Office for Contracts and Grants) for being the first to volunteer to share their experiences.
You do not have to be a member of Staff Council to serve on any of our many committees. For more information or to contact us, visit www.colorado.edu/staffcouncil
-          Submitted by Boulder Campus Staff Council