STORY
School of Public Affairs students gain better understanding of 'Our Courts'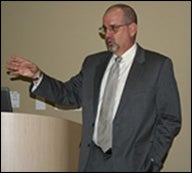 In a hypothetical prosecution of a case involving two men in a bar fight, students from the criminal justice program at the School of Public Affairs at the University of Colorado Denver faced a familiar choice: negotiate a plea bargain or go to trial.
It's not as simple as it may sound.
If every judge, prosecutor and defense attorney worked 24 hours a day, seven days a week, there's still no way every felony case filed in Colorado could go to trial, said Colorado Court of Appeals Judge Steven Bernard in a presentation to the students last month.
Suddenly a plea bargain seemed like a reasonable approach.
Bernard's lecture on the criminal justice system is part of the Our Courts project of the Colorado Bar Association and the Colorado Judicial Institute. Our Courts is an award-winning adult education program providing nonpartisan information about a wide variety of aspects of the justice system from bankruptcy to criminal prosecutions.
The Our Courts group, created in 2007, has made more than 250 presentations across the state.
"I'm not here to sell anything," said Bernard, a former prosecutor for 28 years. "I'm here to talk about riminal law ... which was founded on the idea that people can go somewhere to resolve their disputes in a nonviolent way."
Bernard said the county court system in Colorado processed 72,876 misdemeanors in 2009 and district courts handled 39,464 felonies that year, so the judicial system plays an important role in society.
"I want to extend an invitation to you," said Judge Bernard. "These are not our courtrooms; they're your courtrooms. Come and see us work. I respectfully submit to you that you're going to be impressed."