STORY
School of Medicine again leads magazine's Top Docs list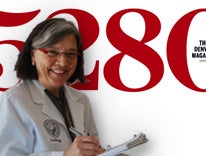 The University of Colorado School of Medicine has once again dominated the list of Top Docs in 5280 Magazine for 2012. The list includes 222 faculty and staff members from the CU School of Medicine out of 337 top doctors rated in the Denver metro area.
View our Top Docs 2012 list from 5280 Magazine.
On the list are physicians and clinical volunteers who are full-, part-time or volunteer faculty who work with locally affiliated hospitals including University of Colorado Hospital, Children's Hospital Colorado, National Jewish Health, the Veterans Administration Health Center (Denver), Denver Health and several others.
For the last 19 years, the magazine has published an annual survey of medical professionals asking who among their local colleagues they would trust with their own health and the health of their families. The process includes an online ballot running from mid-January to mid-March in which Colorado doctors are invited to vote on the best among their peers. There are more than 80 medical fields to select from that have been approved by the American Board of Medical Specialties.
The School of Medicine physicians and clinical volunteers instruct the next generation of caregivers. The school is a leader nationally in education, research and healthcare. Community service is one of the key missions of the school.
Faculty of the CU School of Medicine educate and train more than 1,700 medical professionals each year including medical students, residents and fellows.