STORY
School of Education and Human Development to be home of STEM network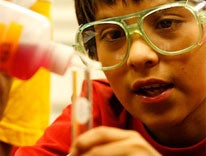 Science classrooms across Colorado will soon awaken with opportunities to engage students and teachers like never before. Education networks from across the country , along with Battelle, kicked off STEMx at the U.S. News STEM Solutions Summit  in Dallas.  STEMx spotlights 13 state initiatives. The University of Colorado Denver's School of Education and Human Development will be home to Colorado's initiative, the Colorado Experiential STEM Learning Network.
Led by CU Denver's Brad McLain and Mike Marlow, PhD, the Colorado Experiential STEM Learning Network aims to collaborate with schools, businesses, policy makers and government labs to create extraordinary STEM experiences for students and teachers. Innovative STEM programs are taking place in classrooms throughout the state but are isolated. The network's goal is to bring STEM innovators and educational researchers together to improve science literacy and promote excitement about science.
"Ask any scientist and they can tell you the moment or event or experience that changed their trajectory, that got them so excited that it changed their life and led them to practice science," said McLain. "With experiential science learning, schools become more effective and learning becomes more valuable."
The network is designed to be action-based and to directly benefit Colorado students and teachers in the classroom, whether it's schools reaching out to businesses for hands-on activities or community involvement in student projects and initiatives. CU Denver's role is to facilitate collaboration between cutting-edge STEM educators in the state, serve as a communication hub, and to conduct and promote research about the programs that make the most impact. Network organizers believe this type of research is critical for success.
"Our research shows that when individuals connect with science through meaningful personal experiences, such as what experiential methods provide, it can impact one's sense of self and help to build positive science identities," McLain said.