STORY
School of Dental Medicine receives innovation award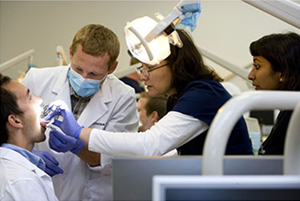 The University of Colorado School of Dental Medicine (SODM) has received the Outstanding Innovation Award by an Academic Dental Institution as a part of the 2013 William J. Gies Awards for Vision, Innovation, and Achievement.
Only one dental school is selected annually for this honor. The CU School of Dental Medicine was recognized for the development of an innovative interprofessional (IPE) curriculum that prepares graduates for future team-based practice, and provides a model for other dental institutions embracing IPE.
"The William J. Gies Awards are truly a high honor in the field of dental education," said Richard W. Valachovic, DMD, MPH, president of the ADEAGies Foundation and executive director of ADEA. "By shining a light on the extraordinary work of dental educators, academic institutions, and our partners -- the best and the brightest in academic dentistry -- the ADEAGies Foundation recognizes those who blaze a path for a new generation of leaders in dental education."
Said Dean Denise Kassebaum, DDS, MS, "I have been privileged to witness the 'creation, evolution and application of contemporary ideas' about interprofessional education develop into a comprehensive interprofessional education program designed to prepare our students to practice collaboratively and improve patient safety and health outcomes. I sincerely appreciate the efforts of Dr. Mark Earnest and his IPE leadership team, along with the IPE Faculty Advisory Committee's efforts to create unique IPE experiences for dental students to participate with the other campus schools."
The SODM partners with the CU Schools of Medicine (Medicine, Physical Therapy, and Physician Assistant programs), Pharmacy and Nursing that supports the IPE curriculum. The CU program is unique because it is the first interprofessional team training program of this type that has been designed to incorporate dental students and dental faculty into all aspects of the program. For the IPE students, their first case is a dental case.
"The CU Anschutz Medical Campus was intentionally designed to foster interprofessional collaboration, but it has been the efforts of dedicated faculty champions and students who have been willing to put in the effort to develop the unique programs that we have today," said Richard Krugman, vice chancellor for Health Affairs and School of Medicine dean. "This award identifies the CU School of Dental Medicine as a model for dental schools and other health professional schools throughout the country."
The two distinct IPE program elements for dental students are participation in REACH (Realizing Educational Advancement for Collaborative Health) and the Frontier Center Project that focuses on collaborative education and practice around oral health and preventive practices in primary care. The REACH program's curricular threads focus on team dynamics and communication in both preclinical training and clinical practice are shared across all health schools beginning the first day that all students come to campus and then continue until graduation. REACH has been mandatory for all incoming health professions students since Fall 2011.
The Gies Awards, named for dental education pioneer William J. Gies, Ph.D., honor individuals and organizations exemplifying dedication to the highest standards of vision, innovation, and achievement in dental education, research, and leadership.