STORY
RTD's airport train poised to propel CU brand higher
University of Colorado A Line debuts next week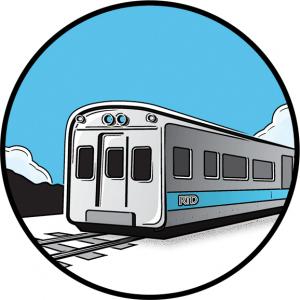 The long-anticipated University of Colorado A Line train from Union Station to Denver International Airport will usher in a new era of transportation in the Mile High City when it opens next week, but it also is expected to provide a boost to CU's marketing and branding efforts.
CU entered into a partnership with RTD last year to name the train. RTD is selling naming rights across its FasTracks project for complete lines or for stations. CU campuses and system banded together to purchase the rights to the airport line, which is expected to have the highest ridership of any FasTracks line, an estimated 10 million passengers annually.
"We're excited to partner with RTD on this project, which brings together the state's leading public higher education institution with the crown jewel of the largest and newest public transportation project in the nation," said CU President Bruce D. Benson. "We kicked off our marketing initiative in September, and the University of Colorado A Line will be an important part of our efforts.
"It also allows us to capitalize on Denver's growing dynamism as a city and regional hub," he said.
Benson said CU expects to garner millions in publicity value from the initiative. The CU A Line will be one of the first points of contact for national and international visitors.
The line, which has eight stations, will open April 22 with a series of public events and free rides. The 23-mile rail line will take 37 minutes to go from Union Station to DIA, with service every 15 minutes. The one-way cost is $9.
Benson said CU's marketing initiative has a number of goals: demonstrating the value and contributions of CU's four campuses in Colorado and beyond, supporting engagement efforts, particularly fundraising, and competing in a busy marketplace. CU faces competition for top students, faculty and staff, as well as philanthropic and research dollars. Its competitors are investing heavily in marketing, whether in state or out of state institutions, traditional campuses or online efforts.
In addition to naming the train, CU gets a variety of advertising and opportunities on trains, in stations and across RTD collateral such as mobile apps, system maps and web.
"This is a great opportunity to elevate our brand and get our name out," Benson said.