STORY
Registration for CU Women Succeeding opens Friday
Systemwide symposium returns in March at UCCS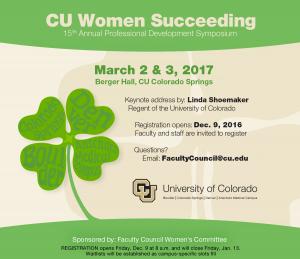 CU Women Succeeding, the 15th annual professional development symposium, is set for March 2-3, 2017, at Berger Hall on the University of Colorado Colorado Springs campus.
Registration will open at 8 a.m. Friday, Dec. 9. Faculty and staff across the CU system are invited to register.
Regent Linda Shoemaker will deliver the keynote address. Visit the website for more information.
Questions? FacultyCouncil@cu.edu