STORY
Regents study cost, value of research
Sponsored research last year totaled $924 million across CU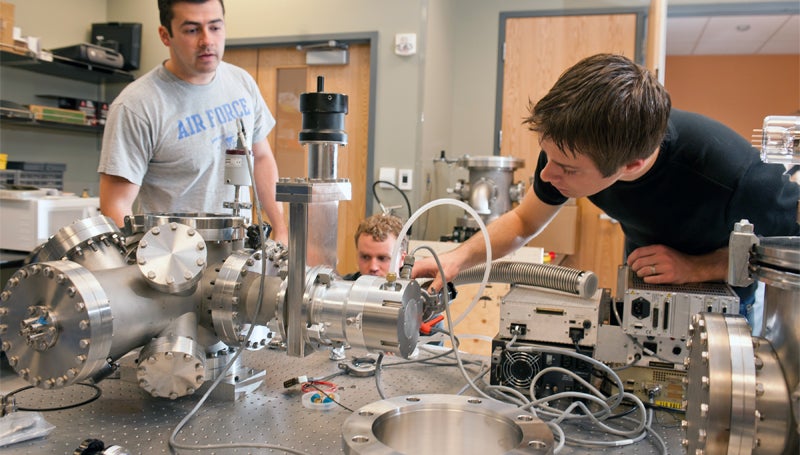 The University of Colorado in 2015-16 tallied an impressive $924 million in sponsored research funding from federal, state and local entities, an increase of about $46 million from $878 in 2014-15. At the request of CU Regent Stephen Ludwig, D-Denver, the Board of Regents at its Sept. 8 meeting heard from Todd Saliman, vice president for budget and finance and chief financial officer, and the campus chancellors on how much of that research money comes from each campus's budget.
"It was unclear how much money the university had to contribute to fulfill its research mission," Ludwig said. "It was important to get clarity on those figures as they are a major part of the budget."
Each of CU's campuses is unique in its allocation and expenditures of research funding, Saliman said.
"There is a portion of state funding that goes into role and mission funding for every institution in the state, and part of our role and mission is research, so we try to identify how much that funding the state allocates comes to the University of Colorado and to our campuses," Saliman said. Of the total state higher education operating budget, 15 percent goes toward role and mission and 3.6 percent of that goes to CU, he said. While none of that money goes specifically to research, it is the portion that can incorporate research.
The caveat, he said, was specific programs such as this year's tobacco allocation which provided $1.7 million for cancer research and $500,000 by the Joint Budget Committee for Alzheimer's research at the CU Anschutz Medical Campus.
For 2014, Saliman said, research funds for CU Boulder were nearly $380 million, with about $32 million, or 8.4 percent, coming from the institution; CU Denver | Anschutz collectively received more than $411 million with $28 million, or nearly 7 percent, from the institution; and UCCS received $5.5 million, with $450,000, or 8.4 percent, from the institution.
The chancellors reported to the board the 2015-16 research budget highlights:
CU Boulder

Research awards totaled $437 million
No. 1 in the nation for atomic, molecular and optical physics and has been since 2006
No. 1 public university recipient of NASA research funding
More than 2,000 undergraduates directly involved in research
650 faculty and students involved in interdisciplinary bioscience research

CU Colorado Springs

Research awards totaled $8 million
UCCS is the only public institution of higher education in southern Colorado with a mission that includes research as approved by the Colorado General Assembly in 2011

CU Denver

Research awards totaled $25 million
Develop models for autism and developmental delays in young children
Sustainable building products
Environmental policy research

CU Anschutz Medical Campus

Research awards totaled $454 million
Skaggs School of Pharmacy and Pharmaceutical Sciences is ranged No. 5 for NIH funding nationally for pharmacy schools
The CU School of Medicine is ranked No. 8 for public schools and No. 22 overall in federal research funding
The university attracts top talent and top students who want to teach and be educated at CU Anschutz
Ludwig stressed he was confident in the management of research dollars among the campuses, but thought it important that the regents understood how the system works.
"A number of people assumed that asking how much research costs was the same as questioning the value of research, which is utter nonsense," he said. "How can you run a research university and not know how much it costs to run the research?"