STORY
Reflections on race and the times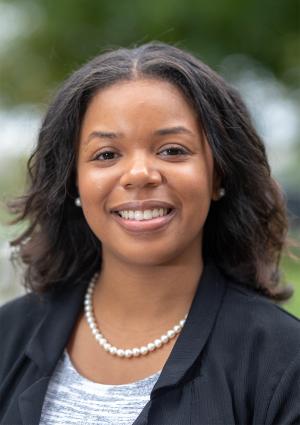 I joined CU about a month ago and at the time my family was still mourning the death of Breonna Taylor, a frontline, essential worker and first responder to the COVID-19 crisis. She was wrongfully murdered in her home. The past decade has been marked not by some new and alarming trend, but thanks to social media, simply a more visible one. I have seen people who look like me, my daughter and my husband die brutally to racism — and more painful still, I have seen our country deny the realities of racism over the voices of suffering people clamoring for structural change.
The convergence of the threat of financial collapse, a pandemic, soaring unemployment — each revealed and exacerbated by systemic and institutional racism — has elevated this moment to truly historic proportions.
As an African American family, we reel from the disproportionate impact COVID-19 has had on our community. And as an immigrant from South America, I know how new legislation impacts my fellow immigrants — whether they fall under DACA or have visas from China. Future generations will ask where we were, what we believed, and most important, how and if we worked to ensure that all people in this country had access to life, liberty and the pursuit of happiness. My heart is heavy for our community. I can't help but think, "Ugh!! Trauma!!"
As we bear witness to activism (some tactics we prefer and others we might not) and celebrate the anniversary of our emancipation from slavery this Juneteenth, I hope we do not deny the very foundation of our country – and the violence inherent in fights for freedom and justice. To resist connecting today to the fight African Americans have been fighting for centuries is to trivialize their contributions not only to this country, but also to many black and brown countries around the world. My birth country was inspired by the Civil Rights Movement of Black America to gain freedom from Britain in the 1960s.
There are so many "lazy" lines of reasoning that we can take up. When we find ourselves looking to rationalize how or why someone like George Floyd is responsible for his own death, we do ourselves and the moment an injustice. We do the same when we choose to raise our voices only to decry violence and not the cause and context. When we draw false equivalency in juxtaposing police brutality and "black-on-black crime" we do ourselves and the moment an injustice. "Black-on-black crime" is an infamous and offensive expression – statistically, people kill people in proximity to them, and while our country is more racially diverse than ever, our cities are still incredibly segregated.
Ultimately, we must challenge ourselves to learn more and place value on the lived experience of communities of color and not rely solely on our limited experiences and opinions.
We should critique lazy rhetoric used regarding Dr. Martin Luther King Jr.'s legacy and thoughts about protest and violence. King would grow his perspective on the complicated nature of violence toward the end of his life and ultimately ask us to focus on the root cause rather than the violence itself. No one thinks violence, looting or rioting are good things – but to deny the historical violence imposed on the African American community is to deny our humanity. King would evolve his thinking to fight more explicitly for economic justice, for tenants' rights in the project buildings of Chicago, for workers' rights with the Poor People's Campaign in Memphis, and against militarism and the Vietnam War. He died with nearly two-thirds of Americans disapproving of him.
In the end, he questioned his message because, despite the optimistic rhetoric and his deep faith in God, he wasn't sure that moderate white people would ever truly support freedom for people of color and recognize the role they've played in maintaining systemic and institutionalized racism. Please read MLK's Letter From the Birmingham Jail to reflect on his thoughts about the role of allies in the fight for justice and equality. He wondered in his final sermon before his assassination if his life's work had led his people into a "burning house" — a metaphor he would use to illuminate the paradoxical nature of black people trying to integrate into what he hoped would become an inclusive and equitable American society.
As an intellectual community that exists to produce and share world-class research and engage content in a rigorous and interdisciplinary way, I urge you to act to understand and help shape the issue of racism in our country. As a former K-12 educator, I can attest to the minimal attention our textbooks pay to the history and contributions of indigenous people who lived on this land and cultivated it long before it became America. The same scant treatment is paid to our African American community that provided free labor and the economic engine that allowed our country to gain its independence as a self-sufficient superpower rather than a British colony.
Rather than turning to a person of color to ask about their experience, I encourage you to begin and/or accelerate the work of educating yourself first. Use library resources or Google to become more informed about the historical and systemic nature of racism. As parents, siblings and children mourn family members taken by police, and as anger simmers with cynicism that justice in the form of convictions and significant policy changes may never happen, I urge you to recognize the humanity of suffering people.
I take time during Pride Month to honor James Baldwin, who said, "You think your pain and your heartbreak are unprecedented in the history of the world, but then you read. It was books that taught me that the things that tormented me most were the very things that connected me with all the people who were alive, who had ever been alive."
I leave you with steps you can take at this time to understand better what is happening in our community.
Become more self-aware
Understand the history of our country

Use our library resources or Google to explore your questions and thoughts about our current climate so that you may better intellectually engage with opposing viewpoints

Take action

I encourage all system and campus community members to engage in CU Denver's Social Justice Teach-Ins led by Interim Vice Chancellor for Diversity and Inclusion Nelia Viveiros and the Office of Diversity and Inclusion
Join the COLTT conference Aug. 5-6, as we highlight social justice within the context of teaching and learning with technology, including Amy Collier's engaging keynote on how inclusive design and design justice shapes our classrooms and communities
Engage with the Colorado Department of Higher Education Equity Toolkit
Lead or facilitate conversations with family and friends about your reflections or research
Support an organization trying to create a more inclusive community
Support small businesses impacted by today's crises
Engage in local, state and national politics
As a senior leadership team, we have committed time during our meetings to have conversations on a variety of diversity, equity and inclusion topics in higher education so that as leaders we too may be more informed and grounded in research that builds the very foundation of higher education and innovation in our country. I look forward to working with you all as we navigate this time in our history. We must commit to living up to CU's motto, All Four: One. For all of us to feel that we belong, we must place value on our collective histories.
Theodosia Cook is Chief Diversity Officer for the CU system.