STORY
Q&A: Hugo Rosen
Department of Medicine's head of gastroenterology, hepatology tells why 'academia is still the best place to take care of patients'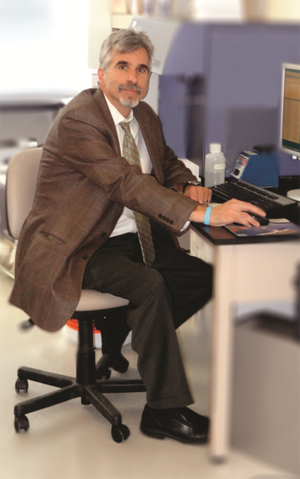 Hugo Rosen, M.D., FACP, is head of the Division of Gastroenterology and Hepatology in the Department of Medicine at the University of Colorado School of Medicine. He holds the Waterman Endowed Chair in Liver Research and is professor of medicine and immunology. A graduate of the University of Miami School of Medicine, he completed his internship and residency at Beth Israel Deaconess Medical Center/Harvard Medical School in Boston.
He also completed a fellowship in gastroenterology and hepatology at the University of California, Los Angeles and joined the University of Colorado in 2005.
How did you become interested in science and medicine?
The laboratory facet of my career was triggered by a yearning to understand why some patients with hepatitis C did well and yet others required liver transplantation and why in some of those latter patients, the transplanted livers were attacked again by the virus. So, my research has really been translational in nature, i.e., what's the clinical question of relevance and how can we best elucidate the mechanisms that account for different outcomes?
Why hepatology?
In my fourth year in medical school, I was signed up for an elective that turned out to be hepatology. It was the late 1980s; not many options existed for patients with liver disease other than steroids, which don't really help most conditions. Interferon for viral hepatitis had not yet been approved and liver transplantation was being performed in only a handful of programs. Yet, I fell in love with the area and feel fortunate to have chosen a sub-specialty that has evolved so rapidly in the past 25 years.
What interested in the career path you have chosen, academia?
It's nearly impossible to do translational research in any other setting than academic medicine. That statement might raise objection from those in other settings, but my point is that despite challenges in funding, academia is still the best place to take care of patients, design laboratory-based approaches to study their illnesses, and if all goes well, contribute to the larger scientific community and translate these insights into improved patient outcome.
Is there a teacher or mentor who helped shape your career?
I was fortunate at UCLA to have a number of excellent clinical mentors in liver disease, but I'd have to say Randy Wahl, Ph.D., a molecular biologist, had the greatest impact on my development as a scientist. Randy was a phenomenal scientist who had a strong understanding of clinical medicine and taught me many techniques, and more importantly, how to frame a research question. My scientific training wasn't conventional in that I didn't train in a liver lab or in a viral hepatitis lab; instead, I learned how to design and interpret experiments and then applied these tools to the clinical questions that impassioned me. I strongly encourage young people to train in laboratory environments different from their chosen paths in order to develop novel perspectives and paradigms.
How would you describe your professional interests?
I think "patient-centered" and "translational" would be the terms I would use. I'm not going to chase a specific pathway in mice that doesn't relate to human disease, although I can see the value. I am interested in filling the gaps in our information:  Why do people with the same liver diagnosis develop different outcomes? It's also interesting to try to expand my knowledge from viral hepatitis to other common problems, including alcoholic liver disease and fatty liver disease. We are now collaborating with metabolic experts who haven't yet focused on the liver in order to understand the genetic and innate immune mechanisms that mediate phenotypes of disease. Having trained at UCLA, I have the benefit of a strong background in transplantation medicine; one of the most gratifying outcomes is managing a patient with chronic liver disease who progresses despite our best efforts but then gets a new lease on life with a transplant. It's great to be a part of such an outstanding transplant program here in Colorado.
Why did you choose the University of Colorado?
The University of Colorado had an established liver group established by Dr. Everson and Kam, so to have a chance to join this group clinically, as well as to be part a rich immunology program was the appeal.
What kinds of professional opportunities or advantages does being a faculty member at an academic medical center provide?
Tertiary academic centers provide us with the opportunity to manage patients who are really ill, many having failed standard treatments. As such, these cases offer challenges and opportunities for further knowledge through collaboration with like-minded physicians and scientists.
If you could change one thing about the world of medicine, what would it be?
That's too tough a question to respond to briefly, but I believe we are experiencing an incredible evolution in our understanding of the molecular mechanisms that underpin diseases. At the same time, many patients don't derive benefit from these advances for a number of reasons, again, too complex to expound upon. What I'd like to see is that these advances would be readily available, even outside of the major academic centers, so that we could better understand that each disease is in actuality a heterogeneous group of diseases with different genetic and pathophysiologic signatures that require tailor-made approaches. We've already seen how compelling and powerful these approaches can be in viral hepatitis, inflammatory bowel disease, and oncology, but that's just the tip of the iceberg.