STORY
Post-Halloween pumpkins to demonstrate medieval history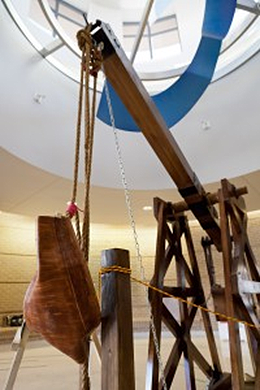 By chucking jack-o-lanterns across the West Lawn on Friday, Nov. 1, two UCCS faculty members hope to demonstrate the value of interdisciplinary cooperation and hands-on learning.
For the second year, Roger Martinez, assistant professor, Department of History, and Michael Calvisi, assistant professor, College of Engineering, will bring history to life by recreating an medieval weapon. From 11 a.m. to  1 p.m. on the West Lawn, engineering and history students will deploy a handmade one-fifth scale 13th century Cantigas de Santa Maria Trebuchet, chucking pumpkins to demonstrate engineering and historical principles.
Those who bring projectiles will be entered into a raffle for prizes including a pumpkin spice latte.
Faculty, staff and students are asked to bring Halloween remnants to the event and to participate in the demonstration of a weapon popular in the era before gunpowder. In its heyday, trebuchets were used to hurl projectiles – mostly rocks — at enemies.
"We're making some enhancements from last year's model," Martinez said recently. "Even though it's old technology, it's still evolving."
Martinez uses the trebuchet as part of his History 1020 Medieval World class and in support of a curriculum called Reacting to the Past. For the past month, the oak-hewn trebuchet has been displayed in the atrium of El Pomar Center, complete with its own oversize campus parking pass.
"Dean Switzer was gracious and allowed us to park the trebuchet outside of the library," Martinez said. "But we all know everything at UCCS needs a parking permit."
As part of the curriculum, students experience history by re-enacting it. Students in Martinez course are studying the Crusades and debating the merits of war. By building a machine of war and putting it into action, Martinez believes students are experiencing history in a unique, hands-on way that makes an indelible impression.
Building on the efforts of students last year, this year's students are in the process of constructing a new box to hold the light-but-large pumpkin projectiles. The larger box will require a different counterweight and new calculations about how far a five pound pumpkin will fly.
That's where Calvisi and the members of the Historical Engineering Society come in.
Calvisi will lead student engineering society members in analyzing the trajectory of the projectile and overseeing the production of the new box. Last year, engineering students conducted a stress analysis of the trebuchet's oak frame to ensure it could do the job it was intended. The trebuchet passed and the students learned skills that could be applied to the workforce.
"The process is the same," Calvisi said. "It doesn't matter if you're testing a trebuchet or a bridge girder. The students were able to say in a job interview, 'Yes, I've had experience with stress testing.'"
The engineers will also work through safety protocols in conjunction with the history students, again combining skills toward a common goal.
"I'm sure there were plenty of accidents using these things," Martinez said. "That's one part of history we're not interested in."
See a video of the trebuchet in action last year: http://www.youtube.com/watch?v=kIvjV1yT01k