STORY
Philanthropy at Work: Richard Johnston, M.D.
SOM associate dean supports scholarships and other CU health and wellness programs
| | |
| --- | --- |
| | This series highlights faculty and staff whose generosity during CU's Creating Futures campaign has made a positive impact. To suggest a profile subject, contact jeremy.simon@cufund.org. |
---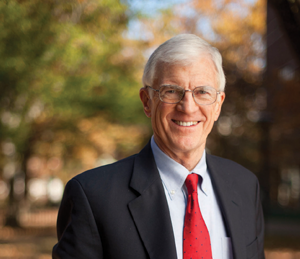 When Richard Johnston returned to the CU School of Medicine (SOM) in 2000 as associate dean for research development, it represented a fulfilling capstone for a career that has included faculty roles at medical schools at Yale and the University of Pennsylvania, and as vice chair of pediatrics in the early 1980s at the SOM.
And it was a chance to be near the High Rockies where he and his wife Mary Anne had built their family home. Mary Anne, who earned a doctorate in education from CU-Boulder in 1979, has also played a significant role as a medical educator. "She taught faculty how to teach better," Johnston said. Mary Anne helped skilled medical professionals transmit knowledge in classroom settings at the medical schools of Yale, Penn and CU.
"She wanted to reduce lecture time and increase interaction," Johnston said. "She'd break larger groups into smaller groups and have them work on a problem. The value of that approach is well understood now, but it wasn't when she started doing it."
Since returning to CU, Johnston has made gifts toward scholarships and other CU health and wellness programs. Last fall, he made a scholarship gift in response to an effort led by SOM Dean Richard Krugman. At the time, he did not realize that the gift increased his lifetime giving above a threshold that allowed him to name the scholarship fund. His decision to name the fund the Mary Anne Johnston, Ph.D., Scholarship Fund—honoring his wife's professional dedication and personal commitment—was a no-brainer.
The scholarship will support students from populations underrepresented in medicine, whether geographic, ethnic or cultural. Doing so is a SOM priority—one underscored by a five-year challenge from CU's Office of the President that matches gifts 1:1 toward medical scholarships to foster a diverse student body and health care workforce. Johnston also has recently supported the Center for Bioethics and Humanities.
"To be able to support something that you believe is important in the world is a tremendous privilege and a wonderful opportunity," Johnston said. "I wish it could be more."
To make a charitable payroll deduction toward a CU program of your choosing, visit bit.ly/HoVAKL. Estate gifts also provide a critical pipeline of support—for more information on bequests and other planned gifts, go to bit.ly/Hpoolv.