STORY
Philanthropy at Work: Carol Hammond
Executive assistant in Advancement gives to support hope for victory over cancer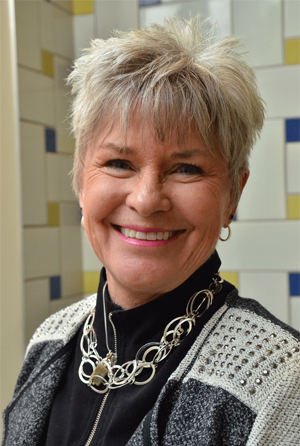 Carol Hammond has been an executive assistant for the top fundraising executives for CU's health sciences campus since 1988. Today, she supports Scott Arthur, CU Anschutz Medical Campus vice chancellor for advancement, serving in almost the exact same capacity for which she was hired 26 years ago.
Since 1998, Hammond has been donating $10 a month to the CU Cancer Center through payroll deduction.
"I got angry at cancer when my mother, a nonsmoker, was diagnosed with lung cancer and then died 14 months later," Hammond says. "I live with hope that there will be a cure in my lifetime."
She makes her donations to a fund directed by pioneering lung cancer expert Paul Bunn, M.D. Though he didn't treat Hammond's mother, who lived in Wisconsin, he consulted with her doctors and provided wise counsel and support to Hammond during a very difficult time in her life.
Hammond says that fighting cancer is a passion because of the ubiquitous nature of the disease. Many of her friends are cancer survivors. In addition to her mother, Hammond has lost several good friends and family members to lung and pancreatic cancer.
"You can't live to be 65 and not know a lot of people who have been touched by cancer," she says.
She also gives $10 a month to the Edelman Green Endowed Chair in Family Medicine. Hammond first met Joel Edelman when he was a consultant and volunteer for the School of Medicine. Later she worked for Edelman when he was interim vice president for the Foundation when CU Denver merged with CU Anschutz. The two have been good friends for many years. Larry Green is a professor in Family Medicine and was Hammond's primary care physician until he retired from clinical practice.
"I believe in the work we are doing at the Anschutz Medical Campus, and the Edelman Green Endowment supports family medicine and the education of our students," she says. "I also give to honor two very good friends of mine."
Though she doesn't talk about her philanthropy with her colleagues or peers, she does have an opinion on payroll deduction: It's easy and you don't notice it missing when it is only $10 a month. Monthly donations do add up, and Hammond acknowledges that she would likely not have been able to give the total amount she has all at one time.
She thinks the best way to encourage other faculty or staff members to give is to ask them what they care about and to think about something that has impacted them in one way or another.
"It goes back to living with hope in your life. I live with hope in my life that eventually there will be a cure for cancer. I live with hope in my life that our students will be educated to become excellent and caring researchers and doctors," Hammond says.
"I believe in this campus."
To support the program of your choice at CU Denver or CU Anschutz, contact development@ucdenver.edu or go to cufund.org/payroll.