STORY
Kroll to Faculty Council: 'I look forward to learning from this group'
New Board of Regents member discusses multiple CU roles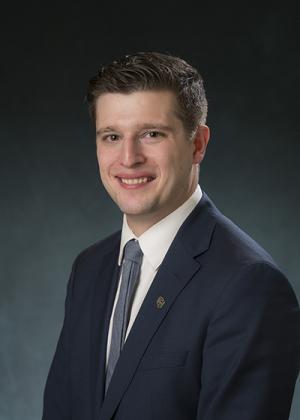 One of the newest CU Regents spoke at the Faculty Council's meeting March 9, discussing issues not just as a member of the institution's governing board, but as a university co-worker.
Representing the 1st Congressional District, Kroll, D-Denver, was elected last November and was sworn in this January. When his mind isn't focused on his elected and volunteer role as a member of the Board of Regents, his career as a CU Boulder admissions officer keeps him immersed in the University of Colorado.
"It's evolving. I work a lot," Kroll told the council of his dual responsibilities. "I just have to do a darn good job. I hope my integrity will speak for itself."
Kroll also understands shared governance from his experience as chair of the Intercampus Student Forum, which he led while a student at CU Denver. Despite the broad swath of exposure to CU, Kroll said he's looking to learn more.
"The world of faculty is one where I don't know a whole lot," he told the council. "It's one area of the university where I haven't had much exposure. I look forward to learning from this group."
Council members heard Kroll outline points of emphasis he made while campaigning last year: supporting non-tenure-track faculty across the system, and ensuring that military veterans in classrooms are being supported enough to make successful transitions. He also reiterated criticism of financial investment in new facilities at CU Boulder's Folsom Field.
In comments, faculty spotlighted other concerns. CU Denver's Joanne Addison said it's important for regents "to recognize the importance of research and understand the role it plays at CU Denver and UCCS. In Denver, it distinguishes us from our immediate competitors." At last month's board meeting, some regents expressed skepticism of CU Denver's aim to increase investment in research.
"We all know the Denver campus is facing some significant budget shortfalls. As the regent that has the Denver campus in my district, that's a big concern for me," Kroll said. "I think we finally have a chancellor dedicated to that campus so that we can create a vision and move forward. … The Denver campus since 2004 has, unfortunately, been through a revolving door of leadership at the highest level. Chancellor (Dorothy) Horrell has the plan right.
"Part of the challenge for the Denver campus is going to be articulating its role in the current landscape and educating board members and the community."
Kroll also expressed interest in the future of online education across CU, noting that he currently takes online classes.
"We've got to maintain high-quality standards," Kroll said. "I also see online as an opportunity to subsidize what we do in our brick-and-mortar operations."
In other business at the March 9 Faculty Council meeting at 1800 Grant St.:
UCCS' Leann Morgan, co-chair of the Women's Committee, reported on a well-attended CU Women Succeeding symposium earlier this month at UCCS. She announced that next year's symposium is tentatively set for February 2018 at CU Boulder.
Gloria Main updated the council on the CU Retired Faculty Association (CURFA) and its leadership's desire to re-establish the current group as the CU Boulder Retired Faculty Association. CURFA would be reconstituted as an umbrella group and networking center for the campus-based retired faculty associations. The new umbrella group would consist of representatives from each campus group; one of those representatives would continue to attend Faculty Council meetings. The council approved a motion authorizing that approach.
Carolyn Proctor, interim associate vice president and chief human resources officer, said this year's open enrollment dates have been set: April 24 through May 12.
Michael Lightner, vice president for academic affairs, said the review of Regent Laws and Policies continues, with a presentation to the Board of Regents' Academic Affairs Committee planned for next week. He said upcoming reviews of Article 5 and Policy 5, both of which fall under the heading of "Faculty," are likely to entail more work and require more time than the previous reviews of Article 4 and Policy 4.