STORY
Hundreds show support at rally against bullying of gays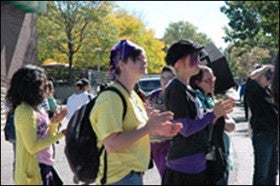 The recent death of Rutgers student Tyler Clementi wasn't the first of its kind – he was one of at least five known suicides among gay, lesbian, bisexual, transgendered and questioning (GLBTQ) youth within a month. On Wednesday, Oct. 20, several hundred students, faculty and staff on the Auraria Campus spoke out as advocates, determined that this tragedy be the last.
Purple dotted the campus as participants donned the color to decry bullying and to support GLBTQ youth. More than 100 people gathered in the Tivoli Commons and pledged to "come out as an ally" and take action against discrimination.
Samantha Ortiz Schriver, assistant vice chancellor for university life and dean of students, echoed the call to come out as an ally.
"If you see injustice, do something. Don't allow bullying to happen," said Ortiz, who recalled speaking out as a youth against bullying that she'd witnessed toward lesbian youth. She was advised to stay out of it. Always an advocate for GLBTQ rights, she officially "came out as an ally" to cheers from supporters at the rally.
Pat Larsen, director of the UC Denver Counseling Center, noted that Clementi had reached out for support after his roommate had allegedly streamed a romantic encounter between Clementi and another man on the Internet. He felt like his concerns were taken seriously, however, she said, obviously it wasn't enough.
"We need to come together, not in a reactive way. We need to come together in a proactive way." She held up a candy bar that had been given to her at the rally, "This says things will get better . . ." she explained. "But they ain't going to get better if we don't do something."
Ed Garton, assistant director in the Office of Student Life, called on rally goers to have a plan. "If you see someone who looks down, just give them a love punch – a little punch – and just say 'I care,'" he stressed. "If you're not saying anything, you're part of the problem."