STORY
'The Human Touch' strives to promote better health care through art
Medical school students edit, contribute to anthology of poems, essays and photos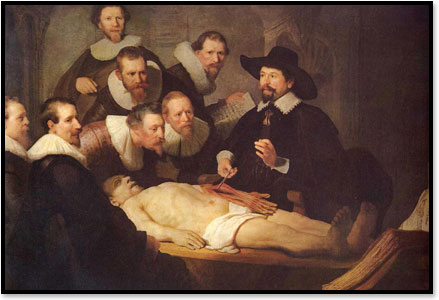 Rembrandt's "The Anatomy Lesson"
Can medical school students connect with patients through art to inspire more humane health care? Can reflective writing about the universality of the human condition create better dialogue among doctors, nurses and patients? Can premed students gain insights into their chosen profession by studying Rembrandt's "The Anatomy Lesson?"
Medical school students and health care providers on the University of Colorado Denver Anschutz Medical Campus whose poems, essays and photographs are featured in the 2009 anthology "The Human Touch" believe the answer to these questions is "yes."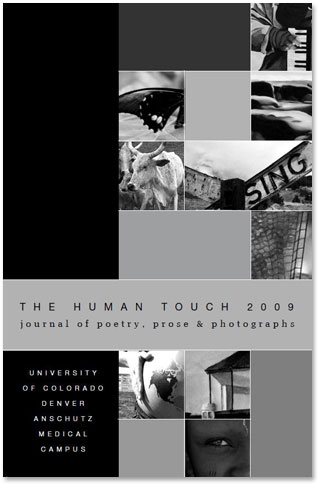 The cover of "The Human Touch" anthology
At the heart of the book, now available for free to faculty and staff on all three CU campuses, is the premise that art can create greater understanding between patients and health care providers and among doctors, nurses and others working in the medical field.
"There are interfaces between medicine and literature, film and art," said Henry N. Claman, MD, a Distinguished Professor of allergy and clinical immunology in the School of Medicine and director of the medical humanities program at the Center for Bioethics and Humanities. "Medical humanities is a growing discipline, integrating the arts, literature and music into the medical curriculum."
The Center for Bioethics and Humanities launched its medical humanities program in 2002, joining some 50 other medical schools across the United States that have included similar programs in their curricula with an eye toward promoting a more humanistic approach to health care. The program requires medical school students to produce reflective writing about their classes, basic science and their experiences with patients and others at hospitals, clinics and hospices.
"The Human Touch" is a product of those efforts. Medical school students edited the book, and their artwork is featured in it as well.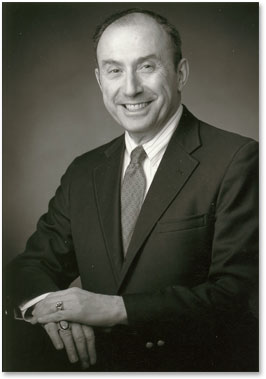 Henry N. Claman, MD
Claman said the program also encourages medical school students to explore their feelings in the treatment of patients through medical narratives. Such narratives can help students develop keener skills of observation, analysis and empathy-all much-needed qualities in an era when doctors and other health care providers are maligned, sensationalized or misrepresented by the popular media.
"We want to know how they feel. What are the non-medical issues involved," he said.
"It gets rather complicated."
Claman highlights several writers of note when drawing from art in the classroom, including W. Somerset Maugham, John Keats and Anton Chekhov, who all began their careers as physicians. Over the summer, he plans to teach two seminars for high school students from rural Colorado communities, and will help the aspiring premed students explore the themes that connect art and medicine through an analysis of Rembrandt's masterpiece "The Anatomy Lesson."
In the 1632 painting, seven men look on as a doctor begins examining the corpse of a thief who has been executed. "We'll talk about lighting, what's in the painting and what's not in the painting," he said. "I'll do the same thing that I do with my medical students, and that is to remind them that a good psychiatrist pays attention to what the patient did not say."
Although his students have tried to introduce him to television programs such as "House" and "Scrubs," both fictional TV series set in the medical field, Claman has little patience or time for television. Even so, he worries about sensationalistic or reductive Hollywood portrayals of the medical profession.
He and others in the health care profession worry that new TV shows such as "Nurse Jackie" and "Hawthorne" could add to the mix of public perceptions about how doctors, nurses and other health care professionals operate in the real world, and may create false expectations.
"It's a legitimate question. It's a concern for serious thought, and that is, how our doctor-patient relations are portrayed in the popular media," Claman said. "How many millions of people watch these shows? The fact is, not every doctor is portrayed sympathetically."
Claman is skeptical of how doctors and nurses are portrayed by film and television writers, but he acknowledges that some in the medical field have contributed to negative public perceptions. The medical humanities program at the UC Denver School of Medicine and others like it aim to improve the relationship among doctors, nurses and their patients, as well as the profession's image.
"Doctors are supposed to be super human, but we have trustworthy anecdotes about some doctor-patient encounters which were not optimal," he said. "So, yes, there's a need for this."