STORY
High school students gain exposure to careers in biomedicine, cancer research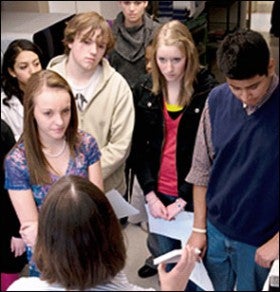 Some 120 high school students learned about prospective careers in biomedicine and cancer research at the second annual Learn about Cancer Day. Co-sponsored by the University of Colorado Cancer Center and the Colorado BioScience Association, students from the Aurora Lights program, Rock Canyon High School, Overland High School, Eagle Crest High School and Smoky Hill High School heard lectures on multiple aspects of cancer and visited research labs on the Anschutz Medical Campus.
Students at the Feb. 18 event interacted with cancer specialists including Jill Penafiel, a brain tumor survivor who has worked at the University of Colorado Cancer Center for nearly four years. Her daughter, a senior at Smoky Hill, attended the event at Research Complex 2.
Students were welcomed by Marileila Varella Garcia, Ph.D., and introduced to the program.
Topics included:
Understanding cancer biology and treatments with Stephen Leong, M.D.
Breast cancer: A lesson from other species with Britta Jacobsen, Ph.D.
Is tanning a bad idea? With Bill Robinson, M.D.
Surviving prostate cancer with Al Barqawi M.D., and survivors Craig Becker and Scott Sharp
Students were treated to lunch and educational games and also toured laboratories.