STORY
Hank Brown, CU president emeritus, announces retirement from university
He'll continue to teach fall class that has students travel to Washington D.C.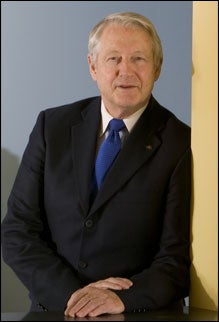 University of Colorado at Boulder political science professor and CU President Emeritus Hank Brown will retire on Dec. 31, but plans to continue teaching a class each fall that takes students to Washington, D.C.
Brown served as president of the University of Colorado from 2005 to 2008. He then was named to the Quigg and Virginia S. Newton Endowed Chair in Leadership at CU-Boulder and was an adjunct professor in the CU Law School.
"For Nan and me, Boulder really is a second home," Brown said. "I was here when I was an undergraduate for four years, in graduate school for a year and then three years in law school. It's a place that keeps drawing you back. It has some of the most pleasant memories of my life. It was where Nan and I met and fell in love and where our twins were born."
Being president of CU was a very fulfilling experience, Brown said. "CU has always been a great institution and it was just a process of letting people know that."
Just last month, Brown returned from a three-day trip to Washington with 31 CU students from the Boulder and Colorado Springs campuses as part of his "Icons of the American Republic" class, the course he intends to continue teaching. The class introduces students to the founding period of the United States through the events, concepts and individuals depicted in art exhibited in the U.S. Capitol.
Brown's future plans also include continuing to serve as chair of the Daniels Fund, on the executive committee of the National Western Stock Show and on several corporate boards.
Born in Denver, Brown was the first student body president of the Boulder campus to later become president of the university. He played football as a freshman but later traded his football scholarship for academic and wrestling scholarships when his football career fell short. He graduated from CU-Boulder with a bachelor's degree in accounting in 1961 and earned a law degree in 1969. He also earned a master's degree in law from George Washington University.
He served in the U.S. Navy from 1962 to 1966 as an aviator; he was decorated for his combat service in Vietnam. He served in the Colorado Senate from 1972 to 1976, the U.S. House of Representatives from 1981 to 1991 and the U.S. Senate from 1991 to 1997. Brown was president of the University of Northern Colorado from 1998 to 2002 and president of the Daniels Fund from 2002 to 2005.
Working with students has been extremely rewarding, he said. When asked which university position he enjoyed more, being an administrator or being a professor, Brown laughed heartily before responding. "It was a lot more fun being a professor," he said.