STORY
Get ready for solar eclipse with free online course
CU Boulder's Duncan promoting MOOC, safe viewing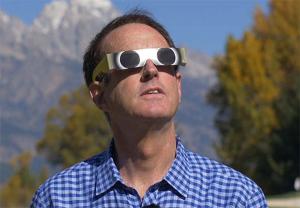 UPDATED AUG. 8: CU On the Air offers a podcast featuring Doug Duncan. Click here to listen and for information on subscribing to CU On the Air podcasts.
Aug. 21 brings the first total solar eclipse across the United States in nearly 40 years. No one under the sun is working harder to spread the word than CU Boulder's Doug Duncan, astronomer and Fiske Planetarium director.
Duncan developed the free massive open online course (MOOC) Sun and the Great American Eclipse of 2017 on Coursera to help citizen scientists and curious learners prepare for the event.
Fiske Planetarium's website also offers several resources, including tips on how to watch safely and a link to an interactive map to pinpoint the best time for viewing in your location.
Every state in the Continental U.S. will have views of at least 75 percent of the sun covered by the moon. Lucky people in a 70-mile-wide swath from Oregon to South Carolina – including parts of Wyoming, Nebraska and Kansas – will witness the rare total eclipse.
And while the moon blocking out the sun is a remarkable sight to be remembered for a lifetime, it's also an opportunity for scientists to see parts of the sun's atmosphere that are otherwise invisible. A total eclipse presented the first chance to test Einstein's prediction that matter can bend space – such as near a black hole.