STORY
Four top CU Advocates honored at sixth anniversary celebration
President Bruce and Marcy Benson host reception thanking members
A special group of CU supporters came together Friday at the Denver Country Club for the sixth anniversary of the CU Advocates program, which now counts more than 3,500 members in Colorado and around the world.
President Bruce and Marcy Benson hosted the reception, where a slate of annual awards celebrated four top CU Advocates.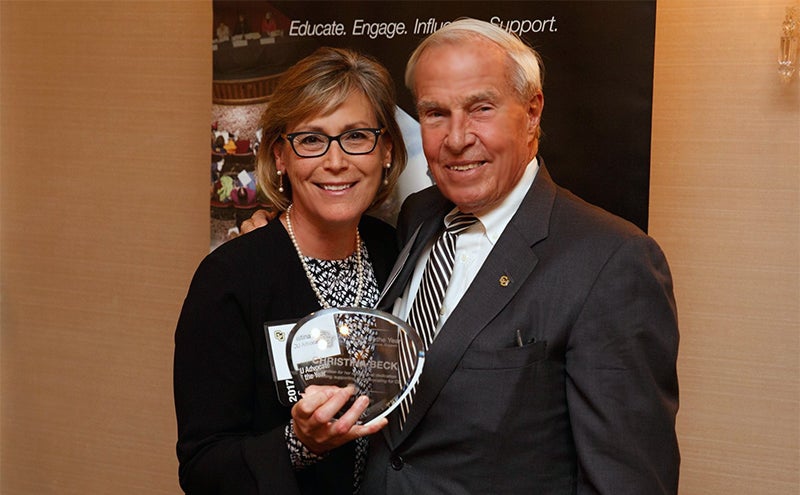 Trevr Merchant
Christina Beck, executive assistant to the athletics director at CU Boulder, is the CU Advocate of the Year. She brings intense dedication and passion to her work in athletics, transcending activity on the fields of play. Beck also volunteers her time at functions serving the campus and beyond, serving as a conduit between community members and the sports they're passionate about. Her advocacy for CU athletics begins at the many games she attends and extends to the greater university, where she enthusiastically connects with a wide variety of people on a first-name basis.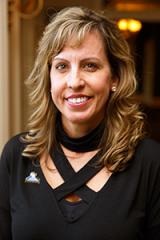 Destin Mehess, interim principal at Central High School in Pueblo, is the CU Community Advocate of the Year. She is credited with building a bridge between students at her school and CU campuses. A CU Advocate since 2013, she has played a pivotal role in establishing CU Celebration events in Pueblo, where hundreds of new CU students and family members are welcomed to the university family. A former science teacher, Mehess also has helped students from her school visit CU Boulder, where they gain pre-collegiate exposure to CU's expertise in the STEM fields.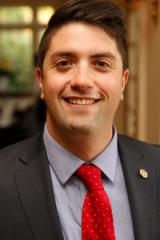 Darren Chavez, program coordinator for Academic Affairs operations at the CU system, is the CU Staff Advocate of the Year. He has worked to raise awareness of CU Advocates efforts among CU faculty members, and has integrated CU Advocates programs and activities into those of CU's Academic Affairs Office. A can-do team member who's always eager to step up and help in a volunteer capacity, Chavez recruited more than 50 soon-to-graduate CU Boulder students as CU Advocates at a single event.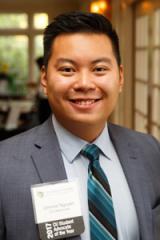 Johnnie Nguyen, a political science student at CU Denver, is the CU Student Advocate of the Year. Slated to graduate in December, he is a former intern for the CU Advocates program. He is a consummate volunteer for the university, having served on student government and advocating for inclusion on campus. A first-generation college student, Nguyen has a natural gift for connecting with members of under-represented communities. He is active in state and local politics with plans to attend law school at CU Boulder.
The event featured remarks from President Benson, as well as Michele McKinney, assistant vice president for external affairs and advocacy, and Kimbirly Orr, the 2016 CU Advocate of the Year. Also attending were past CU Advocates of the Year Colin Finch (2015), George Gramer (2014) and Alvin Rivera (2013). CU leaders in attendance included Regent Sue Sharkey and CU Denver Chancellor Dorothy Horrell.
CU Advocates is a grassroots network of educated, engaged volunteers who care about the university and work to promote its educational, research and economic contributions to Colorado and beyond. Members also help raise awareness about issues broadly affecting higher education.
Since 2011, the CU Advocates program has presented more than 200 educational and advocacy-related programs and activities across the state, showcasing aspects of CU's academics and research across all four campuses.
The event featured this video tribute to Beck's advocacy: