STORY
Farmers' Market opens for season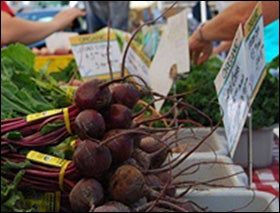 The farmers' market concept has been added to neighborhood activities around the Anschutz Medical Campus. It's open for business 10 a.m. to 3 p.m. Tuesdays in General's Park at East Colfax Avenue and North Quentin Street.
CU's interdisciplinary student group BRANCH (Bridging Research and Aurora Neighborhoods for Community Health) worked to bring the market to the area. Jessie Robinson, BRANCH faculty adviser, says, "Although it didn't end up in the original planned area on campus, the efforts of this group of dedicated and hard-working students was realized. BRANCH conducted the necessary research to have the Metro Denver Farmers' Market organization consider the campus as a location. When the proposed location was not approved, BRANCH worked to elicit the necessary support to secure a new location."
According to Robinson, there's still room for other campus groups to participate in this market.
"This campus has a tremendous amount of educational resources that could make a positive impact on our neighbors," Robinson said. Anyone interested should contact Erin Martinez or Matt Lebsack at BRANCH@branch4health.org.
On its opening day, July 12, CU staff, faculty and students stopped by to shop for fresh fruits, veggies, baked goods and other items.
Organizers say the market will continue into October.