STORY
Faculty working to develop Lane Center plan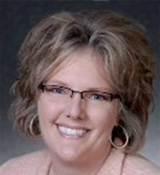 As construction crews work to complete the physical structure for the Lane Center for Academic Health Sciences on North Nevada Avenue, faculty members are working to define what will happen inside the space.
Provost Mary Coussons-Read – along with faculty representing nursing, health sciences, biology, psychology, the CU Center on Aging, and the Trauma, Health and Hazards Center – recently began discussing how the various units that will eventually be in the Lane Center will cooperate with one another and with community organizations that will occupy the space.
The goal, Coussons-Read said, is to have UCCS faculty help identify and "flesh out" education and research opportunities that benefit both students and the community.
"The group is working on how to outline – how to parlay — this great opportunity we have in this building to do something new," Coussons-Read said. "What we have is unprecedented."
While the group is far from having the details worked out, Coussons-Read is excited about the potential to increase the research mission of the campus and the potential to affect the lives of people locally and throughout the nation.
In particular, Coussons-Read pointed to the potential of having health care professionals such as gerontologists, mental health experts, nurses, nutritionists, exercise scientists and primary care physicians working together to improve individual wellness and quality of life. In addition to several UCCS departments, the Lane Center will be home to a branch of the CU School of Medicine and a senior health clinic operated by Peak Vista Community Health Center.
"We have an incredible capacity and ability to educate students in a unique integrated care and training facility," Coussons-Read said.
Integrated health care brings together behavioral health and physical health with primary care, Coussons-Read explained. The potential to transition the current model of health care where patients see specialists who operate independently from each other to one where professionals share information and work cooperatively to benefit the individual is exciting.
As an example, Coussons-Read explained that under current models, a physician treating someone for a sore knee might notice signs of cognitive impairment and refer the patient to a mental health professional located in another part of the city. In many cases, patients simply don't follow up on the referral and the mental health issue is left untreated. In new models, a physician treating a sore knee, and who notices cognitive impairment, would have mental health professionals available as part of a health care team to make assessments and recommend treatment on the spot.
As construction crews continue to work on the building's physical structure, Coussons-Reads expects work to continue on developing the activities that will take place inside. The $18.5 million building, the first UCCS structure on North Nevada, is expected to open in early 2014.
To hear an interview with Mary Coussons-Read on UCCS Radio, visit  https://soundcloud.com/uccs-radio/in-the-spotlight-with-mary