STORY
Faculty endeavors play important role in outreach, engagement
Faculty Council hears update from system leadership
Faculty Council last week heard updates on outreach and engagement efforts underway at the CU system level, including an initiative that would spotlight the work of faculty.
Danielle Radovich Piper, senior vice president for external relations and strategy, and Tony Salazar, vice president for outreach and engagement, were guests of the governance group during its Jan. 26 meeting, held via Zoom. The leaders are helping to carry out a priority of the Board of Regents and President Todd Saliman to connect with the state by strengthening CU's community ties, as well as advocating for the university among key constituents.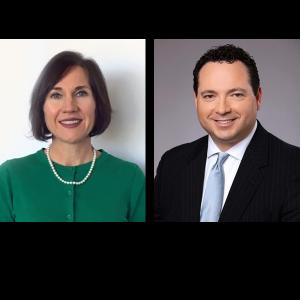 "One of the things that is really important to President Saliman is showcasing the excellence that is all of you, the faculty, and … really getting out there and showcasing that work across the state," said Radovich Piper, who started in her new role in early January.
Saliman, Salazar and Michael Lightner, vice president for academic affairs, have discussed the potential establishment of a President's Speakers Bureau, which would engage faculty in community outreach across Colorado.
Salazar noted that faculty members and deans already have taken part in outreach trips led by President Saliman and the Board of Regents in recent years. Trips are tentatively planned for later this year to the central eastern plains, Pueblo and southeast Colorado, and the mountain communities, as well as visits along the Front Range.
"We would like to do more of that and highlight our campuses – not system administration – as well as the programs and work that you're doing and your expertise," Salazar told the council. "People are hungry for that across the state. They would love to hear from you all and your colleagues about the great things you're doing."
Salazar said the program aims to grow in the coming months, with plans for hiring staff based in the Pueblo and Grand Junction areas, which would supplement community outreach work that he and colleague Christina Beck will continue to lead in the Denver area.
Another key way in which CU will be sharing its story throughout the state is via a new marketing campaign, Radovich Piper said. A vendor will soon be chosen to help lead a collaborative, multipronged campaign expected to include digital, print and TV messaging.
"It's incumbent on us to tell our story, while meeting people where they are," Radovich Piper said. "Because not only are (faculty) doing all the things that invest in our future, but students are doing phenomenal things, staff is doing phenomenal things. Faculty, you are the backbone of all of this."
Also at last week's Faculty Council meeting:
Annie Baccary, associate vice president and advancement administration officer, provided an overview of CU Advancement, including figures from the 2022 fiscal year. The university received $377.2 million in philanthropic gifts from 44,489 benefactors. "Faculty are the inspiration," Baccary said. "The work you're doing is what inspires donors to give, so thank you. We can't ask for gifts unless we have something to connect it to, and your work is critical there. You're what brings the 'wow' factor to the donors."
Faculty Council Chair Cindy O'Bryant announced the rescheduling of two upcoming meetings: The March council meeting was moved to March 16, to avoid conflicts with spring break, and the Faculty Senate meeting was moved to April 20, to avoid a conflict with a Board of Regents meeting.