STORY
Faculty Council Committee Corner: Women
Group explores feasibility of lactation pods
Editor's note: This is part of an ongoing CU Connections series in which the Faculty Council highlights each of its committees and their efforts. See past installments here.
Charges to the University of Colorado Faculty Council Women's Committee include assessing the cultural climate of the university as it pertains to opportunities for women faculty for academic advancement, productivity, appropriate compensation and making recommendations for creating an academic environment that fosters the academic success of women faculty. Key to these charges is support of women faculty who are breastfeeding and their ability to do so while they maintain productive faculty positions.
As the Women's Committee has investigated this issue, we have found that lactation spaces for breastfeeding mothers – faculty, staff, students and visitors – on the four University of Colorado campuses are lacking. Our committee is invested in ensuring there is adequate, appropriate lactation space on each campus and that these spaces are easily identifiable and accessible by those who need them.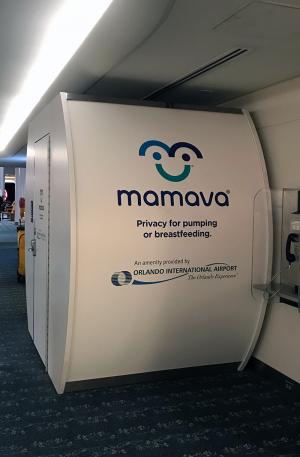 Recognizing that each campus may have its own challenges with creating physical space and obtaining financial resources required to create more lactation spaces, the committee has been researching alternatives, such as the possibility of adding lactation pods to each campus. A lactation pod, like those created by Mamava, is a self-contained, private mobile pod with benches, a fold-down table, electrical outlet (for plugging in a breast pump) and a door that locks. The pods are small – 32 square feet – but can accommodate more than one person in the event that a breastfeeding mother has other children with her. While there are no official ADA standards for lactation pods, the Mamava company also has ADA-compatible pods that are slightly larger (50 square feet) to accommodate mothers who may have special needs.
These lactation pods could be used as semi-permanent lactation spaces while permanent spaces are being constructed or could be used temporarily for campus events.
We invite comments – which may be posted below – regarding lactation space issues on your campus and welcome thoughts on how an investment by the university in these lactation pods would benefit women across the CU system. Questions may be directed to co-chairs Leann Morgan (lmorgan7@uccs.edu) and Sarah Anderson (sarah.anderson@ucdenver.edu).
University of Colorado Faculty Council Women's Committee members (2017-2018): Sarah Anderson (Co-Chair; CU Anschutz, Pharmacy and Pharmaceutical Sciences), Leann Morgan (Co-Chair; CU Colorado Springs, Counseling and Human Services), Uyen Troung (CU Anschutz, Medicine), Jane Kass-Wolf (CU Anschutz, Nursing), Michaele Ferguson (CU Boulder, Political Science), June Gruber (CU Boulder, Psychology and Neuroscience), Kathryn Tallman (CU Boulder, University Libraries), Polly Bugros McLean (CU Boulder, Media Studies), Irina Kopaneva (CU Colorado Springs, Communication), Lori Notestine (CU Colorado Springs, Counseling and Human Services), Maria Buszek (CU Denver, Visual Arts), Rian Kerrane (CU Denver, Visual Arts), Shruti Poulsen (CU Denver, Counseling), Grace Wagner (CU Denver, Student Representative).