STORY
Faculty Council Committee Corner: Ethnic and Minority Affairs
A call for diverse voices in faculty shared governance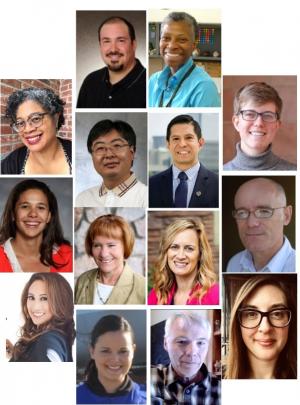 Editor's note: This is part of an ongoing CU Connections series in which the Faculty Council highlights each of its committees and their efforts. See past installments here.
"Shared governance is one of the basic tenets of higher education, and yet there is considerable evidence that it is not generally well understood by its primary participants — faculty members, presidents, and members of boards of trustees."
What is faculty governance? According to our Faculty Handbook, faculty government consists of the systemwide Faculty Senate and its committees, the Faculty Council and its committees (of which the Ethnic and Minority Affairs Committee, or EMAC, is one of seven), each campus's faculty assemblies and their committees, as well as the faculty senate in each college or school. Faculty Senate has a Constitution that provides a system for shared governance at the university for the members of the faculty.
One of EMAC's concerns is the lack of robust engagement in faculty governance, particularly that of faculty who are underrepresented racially and ethnically. Without that engagement, there is a lack of strong representation and advocacy of ethnic minority faculty concerns and issues in the one place of organized influence that CU faculty enjoy.
The Faculty Council is doing an audit and analysis of its current state of shared governance at CU. The co-chairs of EMAC are concerned that, due to the weakness of faculty engagement in governance, a silo has been created in which only certain faculty concerns are identified, addressed or even advocated for within the systemwide level of faculty governance.
What can you do? Get involved.
The Faculty Council Ethnic and Minority Affairs Committee (EMAC) considers concerns of ethnic minority faculty, including:
Assessing the cultural climate of the university as it pertains to opportunities for ethnic minority faculty for academic advancement, productivity and appropriate compensation;
Making recommendations for creating an academic environment that fosters the academic success of ethnic minority faculty and ethnic minority students;
Working to assure fairness in the recruitment and retention of ethnic minority faculty and students;
Developing support networks and recommending policy to address the needs of ethnic minority faculty and students.
This year, EMAC is focused on three areas: 1. strengthening connections and communication with diversity committees on the four CU campuses, 2. contributing to community by hosting Faculty of Color events (including a Boulder Faculty of Color event held Nov. 2, 2018, in partnership with Boulder offices), and 3. inviting campus leaders to speak to EMAC on their work and issues related to our charge, such as the upcoming CU Climate Survey. The committee also is considering alternative names that better reflect our work and the faculty we are charged with representing.
Other Faculty Council committees provide additional opportunities to bring our voice to the table: Budget, LGBTQ+, Personnel and Benefits, Communications, Educational Policy and University Standards, and the Women's Committee.
For more information, check out the Committees of the Faculty Council home page.
We would like to encourage faculty who are underrepresented racially and ethnically to participate in faculty governance at the campus level and the CU Faculty Council level. More diverse voices contribute to the university's ability to realize our publicly stated diversity goals. The time to get involved is now.