STORY
Explore 'Inclusive Leadership' with CU on Coursera
New course from Brenda Allen is free to CU faculty, staff, students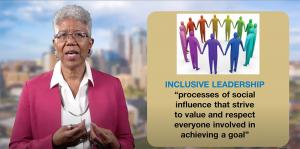 "Inclusive Leadership: the Power of Workplace Diversity" is the title of a new course offering of CU on Coursera, the learning program available free to all CU faculty, staff and students through early 2021.
The course was created by Professor Emerita Brenda J. Allen, professor of communication and former vice chancellor for diversity and inclusion at CU Denver.
Watch a video introduction to the course here.
Allen says the course will equip and empower learners to be more inclusive leaders. Designed for current or aspiring leaders, it presents principles and practices that can optimize reaping the benefits of diversity. Course content covers traditional and timely topics, ranging from respect, listening and feedback to implicit bias, microaggressions and privilege.
The course defines inclusive leadership as: "Processes of social influence that strive to value and respect everyone involved in achieving a goal." Therefore, it is relevant to administrators, staff, faculty and students in formal and informal leadership roles across all contexts of the university.
To access this course for free, log in to your campus portal and you'll find CU on Coursera in the "Training" section. Boulder students can search "Coursera" in BuffPortal. For direct Coursera access to the course, click here.
CU on Coursera is transitioning from a pilot to a continuous offering; access to the expanded Coursera catalog has been extended until April 30, 2021. Learners may enroll in courses and specializations through Feb. 28, 2021, and have until April 30, 2021, to complete coursework and earn verified certificates. New content appears monthly.