STORY
The envelopes, please: Smiles unsealed at Match Day 2014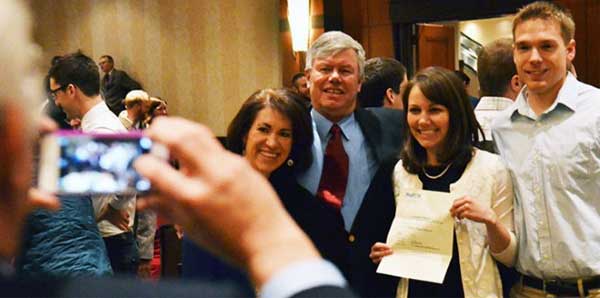 The annual Match Day festivities for CU School of Medicine students launched with hugs, laughter and lots of photo-taking, filling the 90 minutes between check-in at the Grand Hyatt ballroom in downtown Denver and the envelope-opening that unveiled for each fourth-year medical student where they would go next.
The students, accompanied by family and friends, filled the gold-and-black-themed ballroom with a buzz of excitement as they waited to open the 148 envelopes that would reveal their future.
Each year in mid-March, graduating medical school across the country find out simultaneously where they will perform their residencies, which can last between three and 10 years.  The students have visited residency programs and ranked the places where they hope to get training. Those places have ranked the students they want for their programs. When all that ranking is done, the National Residency Matching Program puts it all together to determine the match for more than 16,000 graduating seniors from across the United States.
At 9:45 a.m., CU students were instructed to find the envelope with their name on it from a table near the dais, pick it up and then return to the tables where they were seated with friends and family. But no peeking. They were not allowed to open the envelopes until the magic hour – 10 a.m. – and not a moment sooner.
Dean Richard Krugman, M.D., speaking at his 24th CU Match Day, advised graduates to embrace their match.
"This envelope marks the beginning of the most intense learning year of your career since your first year of preschool," he said, predicting that their learning curve will be "spectacular."
"Some of you will be excited, some will be happy and some will be less thrilled than other people," he said. "But nothing in medicine is forever. Even this."
He handed the microphone to Associate Dean for Student Life Maureen Garrity, Ph.D., who offered a brief toast and, more important, permission to open the envelopes.
The reaction came in waves, as students opened their envelopes. Some groups erupted with screams and shouts instantly. Students at other tables hesitated before learning their destination. Within 20 seconds the room was in uproar.
Within moments, class co-president Carmen Sepulveda was reciting her classmates' destinations to other students.
Sepulveda is going to Swedish Medical Center in Denver to specialize in family medicine, but she seemed almost as excited about her classmates' destinations, which is maybe not so surprising for a student who said she "made it a point to learn the name of every one of my classmates in the first week of medical school."
Sepulveda chose Swedish because she is impressed with the program, which she says uses the Patient Centered Medical Home model.
"It has a really good atmosphere. All the residents work together. Between Second Look (Day) and dinners with residents, I pretty much met all the residents at one time or another."
She'll also stay in Denver where her family and her in-laws live. But for those moving out of Colorado, Krugman reminded graduates, "You've got a career that is portable. It can take you anywhere."