STORY
Elliman: Higher ed is state's 'most important driving force'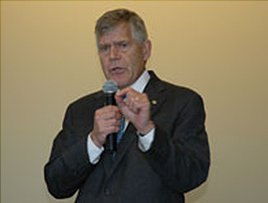 Don Elliman is set to be the next interim chancellor for the University of Colorado Denver l Anschutz Medical Campus. He'll assume the role April 2 after current Chancellor Jerry Wartgow departs.
Faculty and staff gathered in the Terrace Room at 1380 Lawrence St. on the Denver Campus on Monday to meet Elliman, who was introduced by Wartgow. "I've known and admired Don for many years," said Wartgow.
Wartgow also had introduced Elliman Feb. 15 during a town hall meeting at the Anschutz Medical Campus.
In acknowledging Wartgow's own achievements during the past two years at the university, Elliman said, "It's an honor to step into Jerry's shoes."
Elliman comes to the job from the Charles C. Gates Center for Regenerative Medicine and Stem Cell Biology at the CU Anschutz Medical Campus. Prior to CU, he served as the State of Colorado's chief operating officer under former Colorado Gov. Bill Ritter. Before that, he was director of the State of Colorado's Office of Economic Development.
Although Elliman has not previously worked in higher education, he has been involved in work to define the role of higher education through his work with the Ritter administration's Higher Education Strategic Master Plan. He also serves on the Colorado State University governance board -- a role he noted likely will end shortly.
"There is no economic driving force more important than higher education in the state," Elliman said to the faculty and staff assembled. "We must make sure we're doing everything we can to ensure you can do that (higher education)."
When questioned about higher ed's relationship with business, Elliman responded "economic development and higher education are 'tied at the hip.'"
Elliman also touched on budget matters, "Ultimately, we are going to have to change the funding formula in this state." To that end, "we have to educate the citizens of Colorado on their role" for funding all education.
The task at hand, said Elliman, "is a marathon, not a sprint."
Elliman's office will be on the 14th floor of the Lawrence Street Center.