STORY
Drones 101: Course in Unmanned Aerial Systems looks to the future
Take a look at the current CU Denver catalog and you will see a course titled Unmanned Aerial Systems (UAS).
Housed in the Geomatics Engineering and Geographic Information Systems (GIS) Program of the College of Engineering and Applied Science, this course might, at first glance, look like Drones 101—the study of the unmanned aircraft often associated with hobbyists or international conflict.
In fact, the course is an initiative to teach a new generation of scientists about applications and research opportunities afforded by unmanned aircraft.
"The university is looking to the future," said Jeff Cozart, who is teaching the course for the first time in fall 2014. "I believe this is a skillset that a variety of people in different industries will need to know. CU Denver is helping train the workforce in technologies that will be available to them."
The Regulations
How many people will need these skills and how they will be used remains a topic for discussion and some controversy. With an eye on safety, the Federal Aviation Administration (FAA) prohibits routine operation of UAS over densely-populated areas but does authorize limited use of UAS for important missions in the public interest.
Today, drones perform border and port surveillance by the Department of Homeland Security, help with scientific research and environmental monitoring by NASA and the National Oceanic and Atmospheric Administration (NOAA), support public safety by law enforcement agencies, help state universities conduct research and support various other missions for government entities.
The FAA is under congressional orders to develop comprehensive regulations for drones to share the skies with commercial airliners by September 2015. "The FAA is being responsible and diligent," Cozart said. "It may seem slow, but they have to keep the public safe."
The Economic Impact
When they are announced, the new regulations could transform the industry and change how we live and work.
The Association for Unmanned Vehicle Systems International (AUVSI) estimates that integrating UAS into the National Airspace System (NAS) will create more than 100,000 new jobs by 2025.
AUVSI also estimates that the economic impact of the integration of UAS into the NAS will total more than $13.6 billion in the first three years and will grow sustainably in the foreseeable future.
Even if those estimates err on the side of optimism, Cozart believes that future jobs and income will go to professionals who have been trained in the kind of evidence-based applications for UAS he is teaching.  "The curriculum of this course looks at UAS as a scientific and economic discipline," he said. "UAS have been available throughout the history of aviation. What has changed is the amount of data you can collect, store and analyze from every flight."
The Applications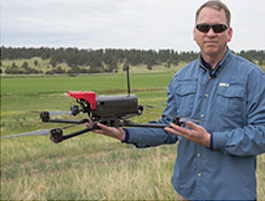 Cozart started his career building maps for National Geographic by hiking deep into the jungle to find Mayan ruin sites in Mexico and Guatemala. His tool at the time was a GPS receiver. The next step was using satellites to create maps. "Now we are going beyond GPS, beyond satellites and looking at the future, seeing UAS doing similar tasks," he said.
Cozart envisions a time when UAS will be more widely applied to solve real-life problems.
The Mine Explosion Application: Today, after an explosion in a mine, a rescue crew searching for trapped miners would have to map a post-explosive environment with newly created hazards. The process can be slow and dangerous.
Cozart describes the alternative—a drone flies into an underground mine after an explosion. The aircraft could be programmed to navigate the mine, avoiding hazards, mapping with a 3D scanner and even collecting data about concentrations of lethal gas. The maps and data could lead rescuers directly and safely to lost miners. In this way, Cozart says, Geomatics, the science that allows us to know exactly where things are, "really does relate to life and death."
The Lost Hikers Application: Traditionally, a search-and-rescue crew will try to find lost hikers, often having to travel vast amounts of terrain in challenging weather.
UAS can fly over a very large area rapidly and, with infrared sensors and thermal imaging, identify people on the ground. "We have a strong sense in the UAS community that drones can be used in search and rescue to save lives," Cozart said.
The Agriculture Application:  Today, farmers do random inspections of their land, collecting soil samples to evaluate soil quality prior to planting. That may mean a farmer with 500,000 acres under cultivation bases farming decisions on only 15 soil samples.
Cozart says drones with sensors could fly over farmland and collect data on the soil, telling a farmer to the square centimeter where the soil needs water or fertilizer. A drone could also tell a farmer which plants are under attack by pests and could then fly over an entire crop, spraying pesticides accurately and specifically on just those plants. In Japan, where drones have been used for this type of "precision agriculture" for the past 15 years, there has been a 10 percent increase in crop yield.
The Future
Cozartwho says he is "overwhelmed" by the drone-based research opportunities, believes his course will train the experts the industry is demanding. Watch the video of him in action on an approved drones test site, and you might think the class is more fun than work. But students are required to learn mission planning, UAS operations, field data collection procedures, data processing and data analysis. They also will study the legal, ethical and economic implications of using drones.
Most important, they will learn from a leader in the field who sees a future where drones are used responsibly and safely in the United States. "Let's not just put aircraft in the sky," Cozart said. "Let's find real applications that have real value."