STORY
Diverse Learners Awareness Week returns
Events at CU Boulder, CU Denver celebrate variety of ways in which people learn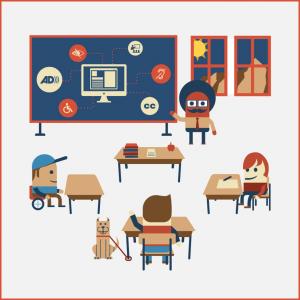 Diverse Learners Awareness Week returns for a second annual lineup of events celebrating the variety of ways in which people learn.
The systemwide event is partly supported by a Diversity and Excellence Grant and has been planned in collaboration with the CU Boulder Diversity and Inclusion Spring Summit. The week, which begins Monday and continues through Feb. 24, features a slate of events, most of them free, at CU Boulder and CU Denver.
"Last year we learned that our community is definitely interested in ways of making our classroom spaces more inclusive, specifically with regards to accessibility," said Alaina Beaver of CU Boulder's Office of Information Technology and co-founder of the event. "The week raised awareness of the concept that everyone learns differently. If we can recognize diversity in that way, we're on the right path.
"The focus this year will be on how to build skills that will make an inclusive classroom environment – and an inclusive CU – a reality. We're shifting from awareness to skills."
This year's theme of "Diversity in the Classroom" focuses on building skills to help establish inclusive spaces for all learners. Sessions are designed to be hands-on, providing specifics on such topics as organizing a classroom for diverse learning, language and etiquette for interacting with others, and de-escalation techniques to be used if tension arises.
The lineup includes a performance by theater group Affinity Arts that will model discussions about diversity, a keynote presentation by Robert McCrurer at CU Denver, an inclusive recreation event with disabled climbers on the CU Boulder campus, and a performance by world champion slam poet Andrea Gibson on topics of diversity.
Also scheduled is a Café Pedagogique event on Thursday evening at Twisted Pine Brewery in Boulder, which follows the Feb. 23 CU Boulder Diversity and Inclusion Spring Summit. The event is limited to 50 participants; the $15 entrance fee will go toward a student scholarship for CU Boulder Disability Services. Attendees will receive dinner and a limited-edition tote bag with additional surprises.
See the full schedule here; registration is encouraged.
"This initiative was successful last year and is now part of OIT's three-year strategic plan," Beaver said. "I'm excited for this year's offerings and I think in years to come this event will only continue to build. I would love to see Diverse Learners Awareness Week become a model event for other institutions across the country to promote inclusivity and accessibility – that would be a huge win for CU."