STORY
Dieter Roth books on display at CU-Boulder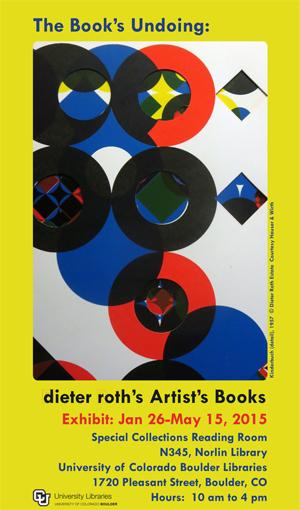 "The Book's Undoing: Dieter Roth's Artist's Books" exhibit is on display through May 15 at the University of Colorado Boulder Special Collections Reading Room in Norlin Library. The show features Dieter Roth's "Gesammelte Werke (Collected Works)," a 26-volume self-published catalog of reconstructed versions of his books.
Dieter Roth (1930-1998) was a poet, artist and master printmaker. Born in Hannover, Germany, to a Swiss father and German mother, Roth was evacuated at age 13 from war-torn Germany to Zürich. He began a pursuit of art and poetry during the several years he was separated from his parents. Roth's interests would lead him to collaborate with concrete poet Eugen Gomringer, artist Daniel Spoerri and many other influential figures in the decades after World War II. His acute fascination with poetry, design and print compelled him to experiment with books and bookmaking.
Roth's innovative use of the book as an artistic medium has contributed to his reputation as one of the most original and imaginative post-war European book artists. Many of his books function as diaries documenting his daily activities and obsessive creative outpouring. Others, made by collaging accumulated studio waste, serve as tribute to his life and artistic pursuits.
Launched in 1969, "Gesammelte Werke" took Roth over 10 years to complete and involved collecting, editing, revising, expanding and, in some cases, embellishing his unique and previously published works. It is not a chronological presentation of Roth's activities but rather an artistic archival undertaking.
"The Book's Undoing: Dieter Roth's Artist's Books" was curated by German Ph.D. candidate Maggie Rosenau, who also is enrolled in the Museum Studies Certification Program. The exhibit is open 10 a.m. to 4 p.m. Monday through Friday; an opening reception will be at 4 p.m. Wednesday, March 11, in the Norlin Library Special Collections Reading Room.
For more information, email spc@colorado.edu or call 303-492-6144.