STORY
Dennis C. Piper selected as VP, chief financial officer of CU Foundation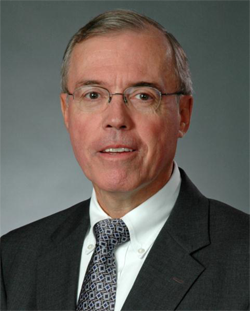 Following a national search, the University of Colorado Foundation has named Dennis C. Piper as vice president and chief financial officer, a role he began Monday.
Piper brings a strong track record and more than 30 years of broad-based corporate financial experience to the position. Most recently he was senior vice president at Northern Trust in Chicago, where he designed, implemented and monitored investment programs for large institutional clients.
"I am very pleased and excited to be joining the CU Foundation," Piper said. "It is an outstanding organization with an important mission. I appreciate the trust and confidence placed in me, and I will work hard to be a good steward of donor assets."
Donors contributed more than $110 million in the 2011-12 fiscal year in support of the University of Colorado through the Foundation, which operates on an annual budget of approximately $23 million and manages more than $900 million in assets consisting primarily of endowments managed on behalf of CU.
At the CU Foundation, Piper will oversee strategic and tactical matters related to the financial management of the foundation. These responsibilities have most recently been overseen by Richard W. Lawrence, who earlier this year became the Foundation's president and chief executive officer.
"It is a great pleasure to welcome Dennis to the CU Foundation team," Lawrence said. "His extensive leadership and investment experience will help us maximize our ability to efficiently support the outstanding people, places, and programs throughout CU's four campuses."
Prior to joining Northern Trust, Piper was vice president of finance at Sprint Corporation, where he had responsibility for the treasury department for seven years and served in other senior financial positions. Prior to his 16 years at Sprint, Piper spent 11 years at the Pillsbury Company in various financial roles.
Piper holds a bachelor's degree in applied science and engineering from the U.S. Military Academy at West Point. After serving as a commissioned officer in the U.S. Army for five years, he earned his MBA in finance from the University of Wisconsin-Madison. He is married with three grown children and three grandchildren, and has relocated with his wife, Teri, to Boulder County.