STORY
D'Elia recognized as President's Employee of the Year
System Staff Council also celebrated nine nominees at event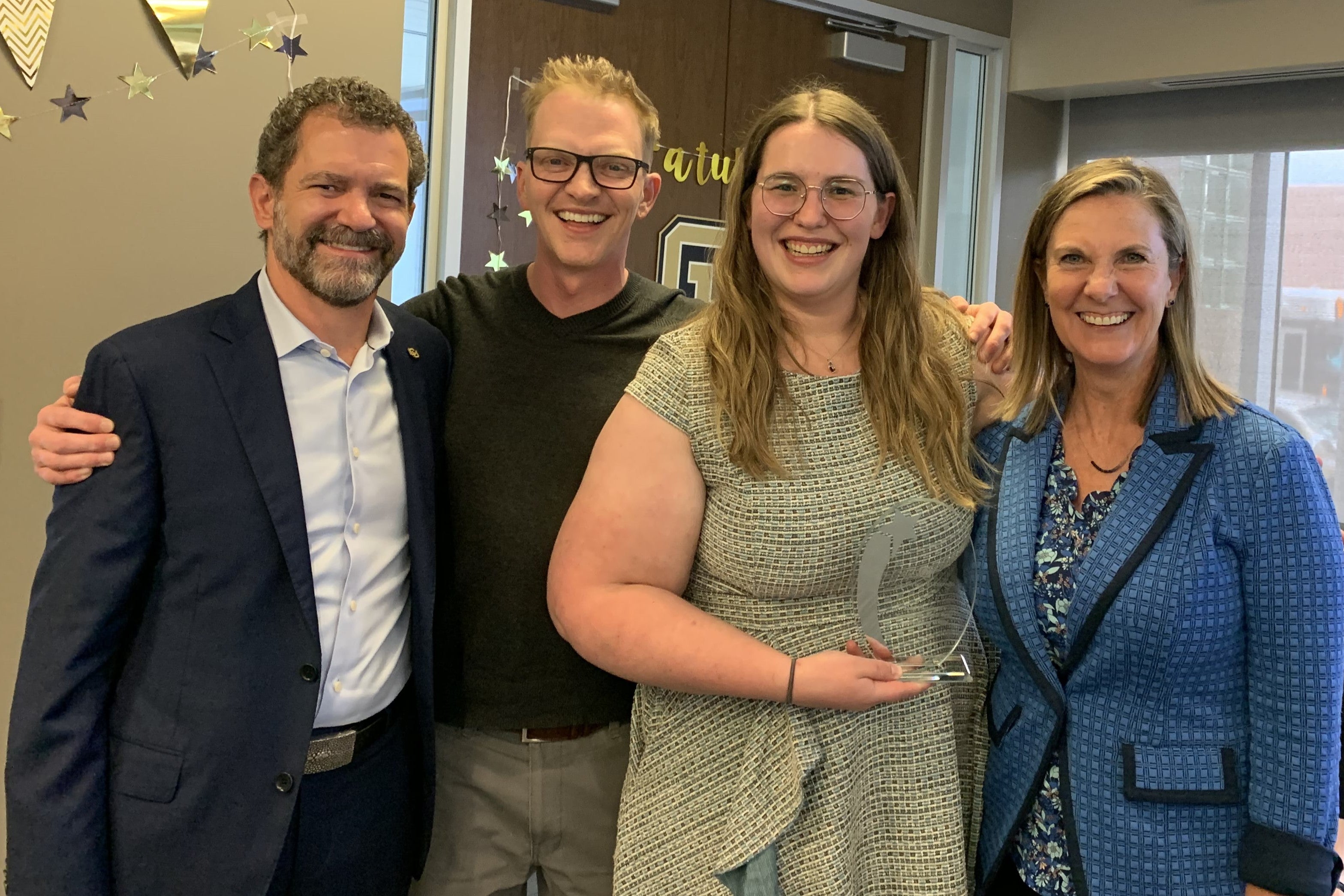 Gwendolyn D'Elia, training specialist with Advancement at CU system administration, recently was honored as the 2024 President's Employee of the Year.
D'Elia received a plaque and $1,000 award, which is presented by System Staff Council, during a Sept. 14 ceremony at 1800 Grant St.
Nine other nominees for the award, given in recognition and appreciation of exceptional job performance, also were recognized, as were many system administration employees who reached milestone years of service during the 2023 fiscal year.
CU President Todd Saliman attended and spoke at the event, as did Felicity O'Herron, vice president and chief human resources officer.
Some of the comments from D'Elia's nomination and letters of support include:
"She feels passionate about helping others, whether it be through providing a training, joining a committee, or ensuring others are informed of available opportunities. The CU system and the Office of Advancement are better for Gwen's contributions and involvements."
"Gwen is a beacon of dedication, passion and commitment. Her enthusiasm for continuous learning, innovative problem-solving, and inclusive leadership resonates throughout every interaction. Her profound impact on our team, the Advancement community, and the broader CU network is undeniable."
"If anyone has a concern or question in our department, Gwen is happy to chat with you. I personally had something come up last winter that I brought to Gwen, and she promptly ran it up the proverbial flagpole after listening carefully to my concerns. With Gwen, you know she cares."
The year's other nominees for the President's Employee of the Year Award were:
Will Angel, Advancement. "With his unwavering positivity, collaborative spirit and commitment to inclusion and excellence, Will enhances CU every day."
Faraz Ali, University Information Services. "When Faraz suggests that we adopt a new technology, he clearly articulates and advocates for the overall value that this solution brings to CU. Faraz has the maturity and judgment to not be enticed by the "new and shiny" solutions, but rather to see through the hype and select the best solutions to further our mission."
Susan Cleveland, CU System Gift Planning. "Her inquisitive nature leads her to constantly expand her knowledge, which allows her to form deeper connections with donors and colleagues alike."
Emily Davies, University Relations. "Emily's innovative and creative approach to problem-solving has led to significant improvements in various processes. Her ability to think outside the box and propose unique solutions has had a positive impact on our team's productivity and efficiency."
Shayla DeYoung, CU System Gift Planning. "She makes calls fun and productive at the same time. She's easy to communicate with, and she is a wonderful advocate for her peers. She wants her colleagues to do well, and she regularly speaks up during calls to brag about them for any number of things."
Crystal DiCino, Procurement Service Center. "In our ever-changing landscape of procurement, Crystal has been one of the most valuable assets the PSC has to translate departmental, legal and compliance changes to both her team members and campus customers in an effort to keep the procurement system functioning and adapting for the future."
Kristina Mendez, Office of University Controller. "Her cheerful customer-first attitude creates a comfortable atmosphere for employees to share problems and seek answers. She is attentive to the needs of a diverse clientele and communicates sensitively with all."
Michael Provine, Advancement. "Mike is the guru of the new Salesforce CU Ascend. He finds answers to users' requests with patience. Also, he rebuilt ODS data base with reporting tables from CU Ascend Database."
Tricia Strating, Employee Services. "From a customer service standpoint, Tricia's excellent ability to provide details and direction while she maintains a neutral stance in representing system administration and our campus constituents is invaluable. Tricia's positive attitude and collaborative style contribute to the customer-centric value of her work."
Employees recognized with Years of Service Awards were:
35 Years
Jenny Rattana
30 Years
Donna Sewell
Steve Zweck-Bronner
25 Years
Gary Bomba
Peter Ciacco
Lisa Landis
20 Years
Laura Haller
Sheri Jungman
Carolyn Proctor
Rick Rowcotsky
Kim Wendelin
15 Years
Anna Aguirre
Fiftwo Baldwin
Elizabeth Collins
Ryan Day
Tara Dressler
Brian Dyet
Kari Henningsen
Jean Howe
Brian Hutchison
Connie Johnson
Michelle Krech
Matthew Ledoux
Matthew Lemme
Kevin McCarty
Katherine Miller
Scott Munson
Denise Nakamichi
Sharon Price
Nora Sandoval
Teena Shepperson-Turner
Sara Wuorinen
10 Years
Erin Benoy Tilbury
Anthony Brooks
Ali Clark
Maureen Durkin
Kadie Goodman
Melissa Kent
Sarju Khadka
Meg Kinney
Toby Lutz
Adam Newby
Faith Perry
Viet Phan
Nonie Roberts
RyAnne Scott
Angelica Throckmorton
Rakesh Vangapati
Marita Vieth
Michael Wolbrom
Five years
Laura Abeyta-Martinez
Manali Agrawal
Faraz Ali
William Armstrong
Rachelle Beauplan
Robi Calderaro
Tahlya Cox
Lisa Damboise
Samantha Fildish
Gregory Henning
Stephen Heymann
Christina Honne
Dave Korman
Samuel Lester
Deborah Lowe
Vicky McPheron
Felicity O'Herron
Alicia Pickell
Elise Ridgway
Raychel Roy
Jonathan Sanders
Heather Savino
Tanya Scott
Tony Sengphirom
Shannon Sunderland
Timothy Thomas
Jaya Vaidyanathan
David Williams