STORY
CU's summer outreach tour kicks off with visit to Colorado's eastern plains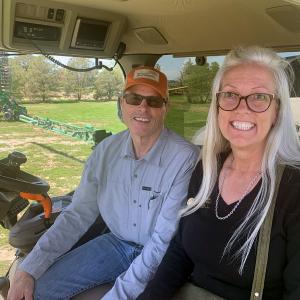 University of Colorado leaders kicked off this year's summer outreach to communities across the state with a visit to several eastern plains communities May 15-17. During the three-day trip to Burlington, Kit Carson, Hugo and Limon, the CU group met with community leaders, public school administrators, elected officials, health care providers, business leaders, and students and families.
The CU leadership group included Regent Frank McNulty (Colorado's 4th Congressional District), who represents the communities visited, along with CU Regents Mark VanDriel (8th Congressional District), Ilana Spiegel (6th Congressional District) and Callie Rennison (2nd Congressional District). The group of regents was joined on the tour by faculty, staff and students from CU's four campuses.
"Colorado is composed of a wide range of communities with varied individual experiences, and we're working to ensure our student body represents the unique perspectives of the entire state," McNulty said. "This was my first official outreach trip as a CU regent, and I appreciate the time and effort put into the important meetings and discussions we were able to engage in across the eastern plains."
The first stop was Burlington, where the leadership team invited community members to an informal dinner and meet-and-greet at the Old Town Museum. The venue, selected because of its connection to the history of the region, is home to several historic buildings that have been relocated to the property. More than 20,000 objects, photographs and documents from Burlington and the surrounding areas are housed in the museum.
The tour continued to Kit Carson, Hugo and Limon, where discussions focused on a range of topics, most importantly, how CU seeks to find new and impactful ways to serve Colorado communities. Additionally, the leadership team made it clear that all eastern plains students can aspire to be future alumni at any of the four CU campuses. Currently, only a small number of CU students from the eastern plains are enrolled on CU campuses, which is a statistic that the university system is looking to change. Campus representatives Daniel Knight, director, SCENIC program (CU Boulder); Katie Anderson-Pence, associate dean, College of Education (UCCS); Erika Greenberg, training coordinator, Centennial AHEC (CU Anschutz); and Kristen Curcija, program manager, High Plains Research Network (CU Anschutz) were key contributors in these discussions.
"What a pleasure it was hosting the CU Leadership team," said Troy McCue, executive director of the Lincoln County Economic Development Corporation. "When our rural communities are so invested in growing our own future leaders, business owners, entrepreneurs and policymakers, it is refreshing to see the University of Colorado's interest in the future of our rural areas. The visit was a welcome addition and a chance to tell our story. We look forward to our next collaboration."
The meetings planned for all three days included discussions with representatives from Kit Carson Memorial Hospital, Burlington Public School District RE-6J, Limon School District RE-4J and Lincoln Health. The tour also involved special engagements at Penny Ranch, Ports to Plains Alliance, Hitchcock - Agricultural Equipment and Manufacturing, Kit Carson Rural Development and Prairie Ridge Buffalo Ranch. Other civic and business leaders also made time to join in on discussions.
"Our leadership's ability to travel across the state and engage with Colorado's vibrant communities is always a treat, and it's also central to CU's mission," said CU President Todd Saliman. "We hope outreach trips like this one help communities better understand our efforts to serve all Coloradans and the importance of receiving a higher education at the University of Colorado. This trip is just one of the initiatives we are putting in place to remain connected to this part of our state."