STORY
CU medical school faculty, students teach bilingual CPR program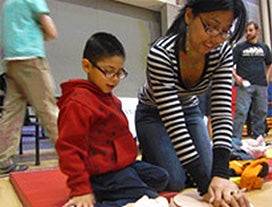 Elementary school kids in Aurora were putting a lot of energy into learning CPR (cardiopulmonary resuscitation) on "dummy" patients recently as part of a health fair program put on by students and faculty from the School of Medicine and other University of Colorado health care programs.
Some of the instruction was done in English, some in Spanish, as the students giggled and grunted their way through life-saving techniques.
"That's it!" said Comilla Sasson, M.D., M.A., a School of Medicine assistant professor in the Department of Emergency Medicine, encouraging Alma Soto and her son Noelardo. "Push!"
"It's fun but with a serious purpose," says Sasson, who joined with medical students and others Oct. 22 at the fair at Paris Elementary School, just a block from the Anschutz Medical Campus.
"We've trained kids as young as 3 years old and grown-ups as old as 90. Often, the kids do the training and then go get their parents."
The serious side involves health disparities – in that some communities, including some poor and Hispanic neighborhoods, few people are trained in CPR and fewer people survive when their hearts stop, a condition called sudden cardiac death. At a previous event in Denver in conjunction with the organization Servicios de La Raza, 350 people learned how to do hands-on CPR, also through the HANDDS Program (High Arrest Neighborhoods to Decrease Disparities in Survival).
HANDDS is associated with the School of Medicine's Department of Emergency Medicine. Among students playing key roles are Emergency Medicine resident Doug Melzer and second-year medical students Kori Neesen and Claire Ojima.​