STORY
CU Denver's Coussons-Read named UCCS provost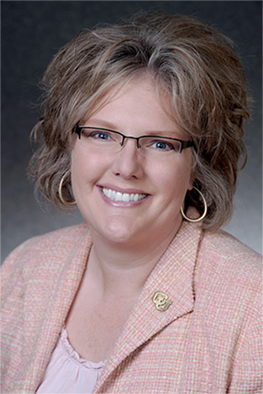 Mary Coussons-Read, a professor and administrator with appointments at the University of Colorado Denver and the Colorado School of Public Health, on Tuesday was named UCCS provost.
Coussons-Read, 45, associate vice chancellor for research, professor of psychology and professor of community and behavioral health at CU Denver, was selected following a national search. She will begin her position at UCCS in early March. As provost, she will direct the academic and research mission of the university in addition to providing leadership for student affairs functions.
"I am pleased that Mary Coussons-Read will join UCCS in this important leadership role," said Chancellor Pam Shockley-Zalabak. "She brings extensive knowledge of CU campuses in Denver and Aurora, as well as a highly successful record as an administrator and scholar, to our campus and the greater Colorado Springs community."
Coussons-Read participated in extensive on-campus interviews Dec. 6-7 and was one of four candidates selected for interviews by a 16-member search committee chaired by Terry Schwartz, associate dean, School of Public Affairs, and Charles Sweet, executive director of strategic planning and initiatives, Office of the Chancellor.
"Many exciting things are happening at UCCS," Coussons-Read said. "I look forward to being part of the campus and helping achieve both near-term and long-term goals. As a member of the University of Colorado who has watched the success of UCCS, I look forward to continuing to connect the university's mission with southern Colorado."
Since 2011, Coussons-Read has served as associate vice chancellor for research and creative activities at CU Denver. She was responsible for encouraging growth of the university's research enterprise and supporting faculty grant-and fund-seeking for both CU Denver and the CU Anschutz Medical Campus.
Her previous positions at CU Denver include director, Master of Integrated Sciences Program,  associate dean of the College of Liberal Arts and Sciences, interim chair, Department of Psychology, acting chair of the Department of Physics ,chair of the Faculty Assembly, program coordinator for the Bachelor of Science in Psychology, and assistant and associate professor in the Department of Psychology.
Coussons-Read has published one book and more than 30 academic articles, book chapters and scholarly reviews in addition to numerous presentations. Much of her scholarly work involves the effects of stress on the immune system and the role of stress in pregnancy.
She earned a bachelor's degree in psychology from the University of Oklahoma, Norman, in 1989 and Ph.D. in biological psychology from the University of North Carolina, Chapel Hill, in 1994. She completed postdoctoral training in developmental psychobiology in the departments of pediatrics and psychiatry at the University of Colorado Health Sciences Center, now known as the Anschutz Medical Campus, 1994-1996.
Coussons-Read will succeed David Moon, who was named interim provost in July 2012 following the retirement of Margaret "Peg" Bacon after 34 years of service to the university. Moon will return to his previous position as senior associate vice chancellor for academic affairs.