STORY
CU in the Community efforts cross campuses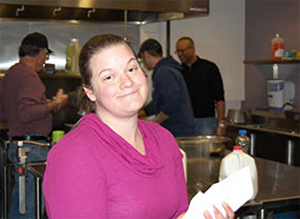 CU in the Community soon will be wrapping up. This year's program opened in November with an invitation to all to participate from Chancellor Don Elliman and Lily Marks, executive vice president and vice president for Health Affairs for the University of Colorado and executive vice chancellor for the Anschutz Medical Campus.
Food Bank of the Rockies, featured partner
Over the past several years, different agencies have been selected as the 'featured partner.' This year it has been the Food Bank of the Rockies.
Whether volunteering at Food Bank of the Rockies or another organization "that resonates with your priorities," noted the Elliman and Marks letter, "either way, we highly encourage departments to volunteer in a group activity. It can be a fun way to bring your colleagues together outside the normal work setting—and have a great time—while contributing to our mission of improving the health and well-being of people in Colorado."
By mid-January groups and individuals were busy scheduling time to work at the Food Bank, including nine colleagues from the College of Arts and Sciences administrative offices who volunteered Jan. 14.
"It was a very rewarding experience," said Tracy Kohm. "We worked in the reclamation area of the Food Bank for the Rockies. The organization made it very easy to setup our volunteer time and was very flexible with our needs. Our team got to bond outside the office, and everyone felt like they got to have a good time doing something worthwhile. Many members of the team have expressed interest in going back again on their own time."
A group of unversity executives including Rod Nairn, Regina Kilkinney, Rebecca Kantor, Raul Cardenas, Mark Gelernter and Laura Argys rolled up their sleeves on Jan. 30.
Just last week, a trio from Radiology helped out.
The volunteers are assigned tasks such as cleaning and sorting packaged food items, using lists to assemble and box orders for shipment to charitable organizations that distribution the supplies.
Groups can select agency to serve 
Since the program started in November, numerous staff, faculty and students have stepped up for various organizations. Eight trainers and staff, including Kaylan O'Byrne (photo above), from the National Veterans' Training Institute worked at Urban Peak on Jan. 9.  Urban Peak helps youth experiencing homelessness and youth at imminent risk of becoming homeless.
The volunteeers prepared and served breakfast for 50-60 homeless youths ages 15-20. They also worked a 'dry foods table set up' while several volunteers rotated around throughout the morning between serving stations, cutting stations, prep areas, the grill, hand washing and the sanitizer.
"We worked really hard and felt so honored and appreciative to serve so many young folks that were equally grateful we were there," said Rudy Moreira, NVTI instructor. "It was a wonderful experience and we plan to return to serve at Urban Peak again."
Work time available for volunteering
Through CU in the Community, all faculty and staff can take one half-day of work time (four hours) to go into the community and participate in a volunteer activity of their choice. Individuals can use their time to participate in a volunteer activity of which they are already a part, or to join a group activity with others from their area or across the university. This year the program expanded an invitation to students and alumni to get involved, too.
Last week, teams from the Finance Department and the Auraria Library worked at the Food Bank. Another group from the Auraria Library helped to sort medical supplies at Project C.U.R.E.
Even more groups scheduled volunteer time throughout this week such as teams from the Skaggs School of Pharmacy and Pharmaceutical Sciences, Office of the Registrar and College of Engineering and Applied Science.
Following the volunteer activity, all participants are asked to visit the CU in the Community website to provide a brief synopsis of their effort.