STORY
CU Boulder chancellor, students continuing discussion of CUSG budget
UPDATED APRIL 11, 2018: The CU Boulder Chancellor's office said it is continuing discussions with students; for the chancellor's updated statement, click here.
The story below first appeared as breaking news on April 6: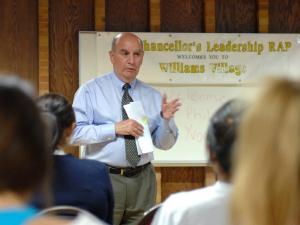 CU Boulder Chancellor Phil DiStefano announced he would pull back on the timing to shift more than 90 percent of University of Colorado Student Government (CUSG) oversight of its $23 million budget to the control of the vice chancellor for student affairs, vowing further conversation and engagement with students. The statement came Thursday afternoon at the CU Board of Regents meeting at CU Colorado Springs amid students' protests on the CU Boulder campus and at the meeting.
Led off by the grandfather of a student who had called him in tears concerning the move, which had been announced Wednesday evening, CU Boulder student (and grandparent) representatives made the most of their 2-minute public comment allotment at the board meeting.
"CUSG is being made a mockery by the administration," said Mavjuda Ashrova, one of several CUSG representatives who spoke. "The whole point of student government was to encourage democracy and student engagement. The action by Chancellor DiStefano was unilateral and totally void of student voices and student government representation."
After a break in the meeting, DiStefano read a statement thanking the students for coming and sharing their concerns and said he would take another look at the decision, incorporating student input.
"I have to say that I was really affected by and impressed with our student leadership who spoke today. I want to respond to your concerns and hear your voices," DiStefano said. "I am committing to the board and students that after conferring with the president and board chair, that I will be pulling back on the timing of this move in order to allow for further conversation and engagement with the students.
"This will give us time to hear all points of view. I look forward to working with you and will charge my administration to immediately commencing those conversations. I will bring the Board of Regents an update at your next meeting," he said.
Troy Fossett, president of internal affairs for CUSG, thanked the chancellor for holding off on the action and pulling student representatives into the process. "My only word is just 'thank you,'" Fossett told the board. "Basically the students' biggest point, as everyone saw today, is that they thought their voice was in jeopardy and what I saw today is that they were heard."