STORY
CU Advocates mark anniversary, honor exceptional members
Advocate of the Year Colin Finch, four more awardees recognized at reception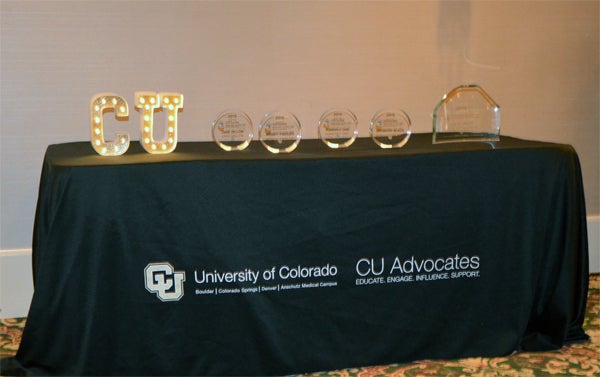 The CU Advocates program on Tuesday marked its fourth anniversary with a reception and awards presentation where five exceptional members were honored for their advocacy on behalf of the University of Colorado.
About 100 people gathered at the Denver Country Club for the event, hosted by President Bruce and Marcy Benson. The program has grown to include about 3,000 members around the world and has presented educational programs to more than 5,000 people.
In past years, the anniversary reception culminated with recognition for the Advocate of the Year. That tradition continued, with the new addition of specialty awards for four others.
Colin Finch was chosen from among the group's 3,000 members as Advocate of the Year. Michele McKinney, assistant vice president for external affairs and advocacy, said Finch has recruited more than 20 new CU Advocates and led a partnership with CU Advocates and the Forever Buffs Boulder Alumni Chapter to establish CU Scoop, a near-monthly series of educational programs for members of both groups in Boulder. Besides serving as president of the Boulder Alumni Chapter, he is a board member of the CU Director's Club and CU-Boulder alumni advisory board.
"I am overwhelmed and honored by receiving this award but this is really for all of you who are here tonight," Finch said. "You go above the call of duty to support this program and we would not be where we are today without you. Your support helps us further the goals of CU, allowing it to strive and accomplish great things."
Other honorees:
Jane Dillon, CU Advocate Volunteer of the Year: She was recognized for volunteering to represent the CU Advocates at many events in Pueblo, Colorado Springs and Denver. She serves on several committees at the University of Colorado Colorado Springs and recently was named to the board of trustees for the CU Foundation.
Wendy Fiedler,CU Advocate Informant of the Year: She was recognized for attending multiple educational events and gathering facts and figures about CU and higher education to share with state and local government officials.
Kimbirly Orr, CU Advocate Marketeer of the Year: The president of the Denver Metro Forever Buffs Alumni Chapter promotes joint events with the CU Advocates and works to advance the CU Advocates via social media, marketing concepts and regular attendance at CU events.
Bernard Slack, CU Advocate Recruiter of the Year: As part of TIAA-CREF, he has leveraged the company's sponsorship of the Buffalo Bicycle Classic to promote the CU Advocates program to event participants. He also facilitated President Benson speaking to TIAA-CREF employees. He promotes membership in the group whenever possible and has recruited 15 new CU Advocates in one year.
- Videography by Jon Arnold