STORY
CU's Conference on World Affairs engages students, faculty and more
Young people driving growth at annual event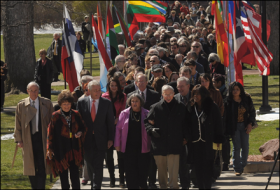 The University of Colorado Boulder's annual Conference on World Affairs (CWA) returns to campus for the 65th time Monday through April 12, featuring 200 panel discussions, performances and plenaries.
Over 100 participants from around the country and the globe will pay their own way to travel to Boulder to present in what Roger Ebert has dubbed "the Conference on Everything Conceivable."
All sessions are free and open to the public, making CWA the largest, most accessible event of its kind in the nation. In recent years attendance has swelled to tens of thousands of audience members, with 94,000 seats filled over five days. National Research Center, a Boulder firm specializing in survey data and analysis, has helped to track the conference's changing demographics.
"What's really exciting about the conference's extraordinary growth is that most of that is coming from young people," says Bryan New, CWA's assistant director of public affairs. "The National Research Center's analysis shows that student attendance has doubled in size in recent years. A full third of our audience is students now, alongside faculty, staff, community members and visitors from around the country. The conference is the stand-out event in the campus calendar in terms of drawing student involvement."
Student volunteer coordinator Lex Cummings is a CU-Boulder senior who has been involved in the conference since her freshman year.
"It's incredible how the CWA culture values students and their opinions, while developing leadership skills," Cummings says. "Because of that, we have a strong sense of ownership in this event. It's something that CU students can be proud of. Hands down, it has been the best experience of my college career."
Former CWA volunteer and CU graduate Trey Lyons, currently a U.S. State Department foreign service officer, will be returning to Boulder this month as a conference participant.
"What you realize as a student is that even though participants travel from all over the world, everyone at the CWA — students, faculty and community members — are all a part of this incredible bazaar of ideas," Lyons says.
CU faculty members play an integral role in the success of the conference, from encouraging students to attend sessions and report on their experiences, to creating panels that coincide with subject matter in their classes.
"The CWA offers a chance for students to demonstrate their ideas and leadership," says Jerry Peterson, physics professor and chair of the Boulder Faculty Assembly. "It always leads to lively conversation, as the students continue the discussions and disagreements they heard in the panels. The CWA has been an amazing asset to students in my class."
Vicki Hunter, director of the International Affairs honors and internship programs, encourages her students to be involved as directly as possible.
"I have had students intern with CWA every spring because it is such a worthwhile experience," Hunter says. "The conference serves students in so many ways."
Mary Rochelle, who has served as student editor for CWA's Politics and Media subcommittee, believes the diversity of opinion is one of the most important aspects of CWA.
"Every year our subcommittee really strives to bring a wide range of participants with different ideologies across the liberal-conservative spectrum," Rochelle says. "The best panels are always the ones that spark dimensional, multifaceted conversation."
This year's keynote address will be delivered by Hedrick Smith, Pulitzer Prize-winning New York Times journalist and best-selling author. His address, "Who Stole the American Dream?," will be at 11:30 a.m. Monday. The keynote address will be preceded by CWA's colorful, annual opening procession. Led by Smith and CU-Boulder Chancellor Philip P. DiStefano, the procession will advance at 11:10 a.m. through the avenue of international flags on display in Norlin Quad and into Macky Auditorium, where DiStefano will introduce Smith.
Other highlights from the 2013 schedule include:
Kathleen Kennedy Townsend, former lieutenant governor of Maryland and a leader in the private and public sectors, will deliver a plenary address, "Why Won't Universities Teach Virtue," at 12:30 p.m. Monday in Macky Auditorium.
Arizona Congresswoman Kyrsten Sinema will speak on "Bipartisanship, Civility and Dialogue" at 3 p.m. Monday in Macky Auditorium.
The Ebert Cinema Interruptus, which will be hosted this year by radio personality Terrence McNally, will dissect "One Flew Over the Cuckoo's Nest," from Tuesday through April 12. The Interruptus takes place each day at 4 p.m. in Macky Auditorium, beginning with an uninterrupted screening of the film on Monday.
New Orleans musicians Henry Butler and Donald Harrison Jr. will join singer Lillian Boutté for a performance of "Who Dat, Where Y'at?" at 11 a.m. Wednesday in Macky Auditorium.
Grammy-winning pianists, composers and brothers Dave and Don Grusin will perform a piano duet at 2:30 p.m. Wednesday in Macky Auditorium.
Former covert CIA operations officer Valerie Plame Wilson and Joe Cirincione, Ploughshares president, will speak on "Nuclear Nightmares" as a plenary duet at 10:30 a.m. April 11 in Macky Auditorium.
David Corn, Washington bureau chief of Mother Jones magazine, will close the week with the Molly Ivins Freedom Fightin' Memorial Plenary at 2:30 p.m. April 12 in Macky Auditorium. Corn won the 2012 George Polk award for breaking the "47 percent" video story during the 2012 presidential race.
CWA attendees are encouraged to use public transportation as there is no event parking on campus. Free parking is offered on the third level of the Macy's parking structure at the Twenty Ninth Street shopping mall in Boulder, at the southwest corner of 30th and Walnut streets, from which a free HOP bus ride is available to campus during CWA week.
The HOP will run on its normal route arriving every seven to 10 minutes between the hours of 7 a.m. and 7 p.m. Monday through Friday. The two stops nearest the Macy's parking structure are at 29th and Walnut streets and 30th and Walnut streets.
For a complete schedule and more information visit the Conference on World Affairs website, http://www.colorado.edu/cwa.