STORY
CSF's 'Othello' opens Friday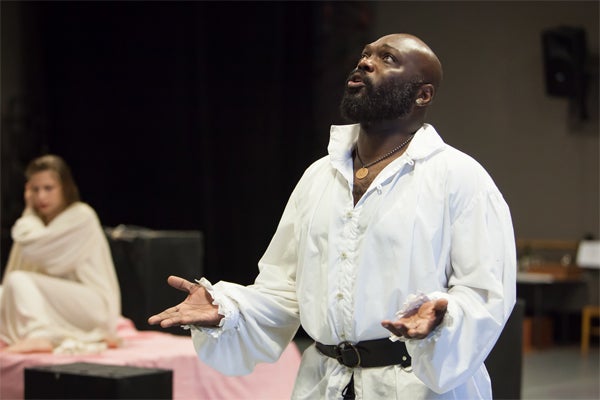 Jennifer Koskinen
Lisa Wolpe — a FIRST (Faculty-in-Residence) Scholar at CU-Boulder — brings a career of directing and acting in Shakespearean productions to her directorial debut with the Colorado Shakespeare Festival. In her interpretation of "Othello," audiences can expect "a show that is going to be heartbreaking and beautiful."
"Othello," which opens Friday at the Mary Rippon Outdoor Theatre, also stars Los Angeles-based, Emmy Award-winning Peter Macon as Othello in his CSF debut. The Yale-trained television and stage actor previously played the noble and tragic title role with the Oregon Shakespeare Festival (2008) and the Guthrie Theatre in Minneapolis (2014).
"Peter Macon is a truly magnificent actor, a world-class Othello," says Wolpe, an international advocate for women and diversity onstage. In 1993, she founded the Los Angeles Women's Shakespeare Company, an award-winning, all-female company that has been featured on PBS, CNN, ABC, NBC, CBS and London's International News. "His onstage identity is fluid, intensely powerful, intelligent, loving and dangerous…moving from monumental dignity to wild agony in a heartbeat, at once achingly tender and hard-hearted in the extreme."
This season's "Othello" the CSF's first outdoor production of the play since 1996 runs through Aug. 8. Single tickets start at $20 and discounts are available. Visit coloradoshakes.org for more information and to purchase tickets. Tickets may also be purchased from the CU Presents box office by calling 303-492-8008. The box office is open from 10 a.m. to 5 p.m. Monday through Friday and is located in the University Club on the CU-Boulder campus.