STORY
Cragmor improvements include UCCS parking discussion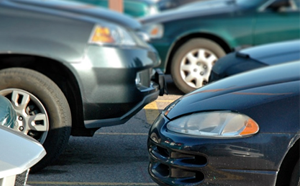 The Cragmor neighborhood south of Austin Bluffs Parkway is scheduled for millions of dollars in improvements beginning this summer, residents learned during a Tuesday night meeting at Berger Hall.
A crowd of about 150 including faculty and staff members who live in the area attended a neighborhood meeting where city engineering representatives detailed where new sidewalks, curbs, gutters, intersection improvements and asphalt street overlays are planned. And while there may be temporary inconvenience, none of the improvements will cost homeowners. Local and federal grants will be used to pay for the improvements.
But that good news was soon tempered by what really frustrates many Cragmor neighbors who attended the meeting – speeding, illegal parking and litter blamed on UCCS students.
"We have a new form of government and a new council," said Tim Roberts, a senior transportation planner for the city of Colorado Springs. "They have recognized the problem. Our goal is to get students out of the neighborhood."
During the next several weeks, city officials will meet with Cragmor neighbors in an attempt to reach consensus about how to reduce illegal parking and driving behaviors. Options include permit-only parking, time managed parking, and increased law enforcement. The area will be broken into four subgroups so that solutions that fit specific areas can be developed. Roberts hopes to have consensus on plans by the end of July with implementation by early September.
Roberts, Jim Spice, executive director, Parking and Transportation Services, and Kathleen Krager, a transportation manager for the city of Colorado Springs, answered resident questions including charges that UCCS does not provide adequate parking for students, faculty and staff.
Spice explained that hundreds of parking spaces are available at Four Diamonds and that those spots – as well as a free bus ride – are available. He also shared plans for a new, 1,200 space parking garage that is under construction. The issue, Spice said, is one of choice. Students chose to park in Cragmor rather than ride a shuttle bus. And, as long as they park legally, city streets belong to the public at large, not the person whose home is adjacent to the street.
An idea that generated discussion was permit-only parking. Permits would only be issued to residents. All other cars parked in the area would be ticketed.
Permit-only parking isn't new. Krager cited 27 such areas in Denver alone. Such programs are often expensive to implement and would require a change in city ordinance, but she assured neighbors they won't have to foot the bill for those neighborhood improvements, either. Revenue to run a permit parking program could come from tickets issued to offenders.
"He's providing the carrot," Krager explained in reference to Spice's free parking and free shuttle rides. "I'll provide the stick."