STORY
Colorado Completes! website launched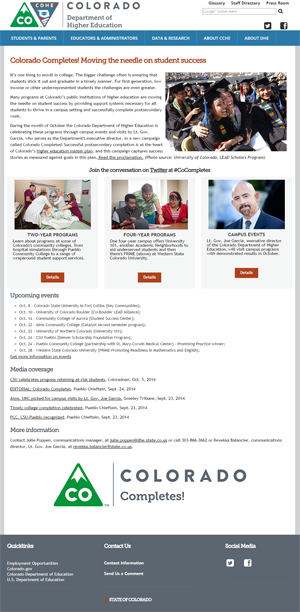 Many programs at Colorado's public institutions of higher education are moving the needle on student success by providing support systems necessary for all students to thrive in a campus setting and successfully complete postsecondary work.
This month, the Colorado Department of Higher Education is celebrating these programs through campus events and visits by Lt. Gov. Joe Garcia, who serves as executive director of the Colorado Department of Higher Education, and social media posts in a newly launched campaign called Colorado Completes!
Successful postsecondary completion is at the heart of Colorado's higher education master plan, and this campaign captures success stories as measured against goals in this plan.
Read more about the campaign at the new Colorado Completes! website. And join a conversation this month about the importance of timely college completion using the hashtag #CoCompletes on Twitter. Please post events, stats and program snapshots related to the importance of completion.