STORY
Capitol to host CU Advocacy Day Jan. 31
Free event highlights CU legislative priorities, more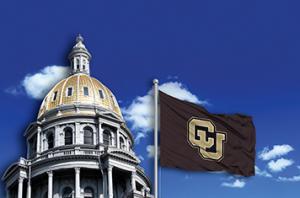 The 2017 edition of CU Advocacy Day is set for Jan. 31 at the Capitol, with a schedule that includes appearances by Gov. John Hickenlooper and Lt. Gov. Donna Lynne.
Presented by the CU Office of Government Relations and the CU Advocates program in the Office of the President, the event brings together members of the CU community with state lawmakers, who began their legislative session on Wednesday.
CU Advocates, guests and supporters are invited to learn about higher education funding and the university's latest educational, research, public service and economic contributions – information that may be shared to help influence opinions about CU and higher education. The program will be followed by a special legislative reception providing an opportunity to speak with elected officials.
The Jan. 31 agenda:
3-5 p.m. in the Old Supreme Court Chambers
CU President Bruce Benson
Gov. Hickenlooper and Lt. Gov. Lynne
CU myth busters
Outlook for CU and higher education funding
Legislative preview for CU
CU For Colorado: Information on campus outreach programs serving the state, including CU Denver's Colorado Center for Community Development and the rural track at the CU School of Medicine at the Anschutz Medical Campus
Visit with elected officials
5-7 p.m. at the Benson Mineral Group office (walking distance from the Capitol)
Legislative reception hosted by President Bruce and Marcy Benson
Both events are complimentary, but registration is required. Click here to register.