STORY
Cancer Center explores the art of spreading the word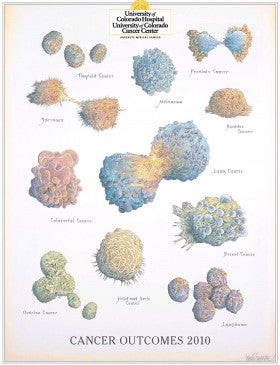 Hoping to raise awareness of their cancer program among a big group of the nation's oncologists, the University of Colorado Hospital and the University of Colorado Cancer Center have ventured into the poster business.
The hospital and center jointly sent lushly illustrated posters of cancer cells, of all things, to nearly 20,000 medical oncologists around the country. Meanwhile, the back of the poster features some of the Cancer Center's medical outcomes, which exceed state and even national averages for many kinds and stages of the disease by up to 30 percent.
"We want people to know we're here and we're very, very good," said Dan Theodorescu, M.D., Ph.D., the Cancer Center's director as well as a urologist specializing in bladder cancer surgery and research. "We want our colleagues to know the level of patient care and research that goes on here. This was one of the many ways we're doing that."
Massachusetts-based artist John Burgoyne, whose many clients have included National Geographic, Volkswagen and Apple, took on the task of turning 11 kinds of cancer cells into the same kind of fantastically detailed, distinctive illustrations he does of fruits, vegetables, meats and other edibles for the back covers of Cooks Illustrated magazine.
Asked what his strangest assignment has been, he said, "Um, well, this one could be right up there. Let's see, I began professionally in 1975 and thinking back over the years ... yeah, I think this job might be the answer to your question."
But he found little difference between creating portraits of pancetta, bresaola and other Italian cured meats for Cooks Illustrated and a sarcoma cell for University of Colorado Hospital.
"My approach is always the same regardless of subject matter," Burgoyne said. "The first challenge is to focus on making the subjects look good. I always approach it first with, 'How can I make these look their best?' After that, it all lies in the execution – getting the details just right."
The resulting illustrations also served as the cover of the Cancer Center's annual report, just released in electronic form.
The posters are hitting the mail about the time about 200 medical oncologists around the country are receiving ballots from US News & World Report to vote for "the best" cancer treatment centers.
Their votes, in turn, determine each hospital's cancer rankings for the magazine's well-known annual "America's Best Hospitals" rankings published each summer, typically in July.
US News and RTI, the research firm that compiles the rankings, randomly send ballots to the 200 American Medical Association oncologists and ask them to name which cancer centers they consider to be the best in the country.
An average of 40 percent of the voters return their ballots each year, meaning only about 80 of the nation's 25,000 medical oncologists practicing worldwide determine any given cancer facility's national reputation score in the US News poll. And "reputation" makes up 32.5 percent of most specialties' overall U.S. News score.
"We thought it'd be good to try to get and stay in front of voters at the time they may be getting their US News ballots," said UCH Marketing Manager Brad Fixler, who concocted the strategy with Lynn Clark, the Cancer Center communications manager, and the creative team from Cactus Communications, the hospital's ad agency.
"Sometimes we're told (that) voters just vote for the place they went to med school or the places that happen to be top-of-mind at the moment," Fixler said.
To spread the word even further, for the second year in a row the hospital also is conducting online search advertising in nine key, oncologist-heavy cities, including Boston, New York, Philadelphia, Chicago, Houston, San Francisco and Washington, D.C. When people search on Google with one of about 60 highly clinical search terms in those cities, an ad for the hospital's oncology services will appear on their search results.
Hospital strategists believe clinicians would be the most likely people to use such clinical search terms, and that the words might therefore be a good way to get the hospital's name in front of them.
The technique did garner some 371,000 "impressions" – meaning 371,000 sets of eyes saw the ads – in those cities during a three-month experiment last spring. A second round of such advertising started in the same cities in December 2010, and will extend through February 2011.
Fixler and Clark are part of a team – with Director of Marketing Bill Sonn; Neurosurgery's Tracey Anderson, MSN, CNRN, FNP-BC, ACNP-BC; and Strode Weaver, executive director of Oncology Services – that has been studying the factors that go into the US News rankings of hospital-based specialties.