STORY
Campus community takes part in iron-clad collaboration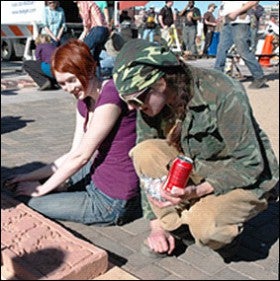 An already warm pre-spring day got red hot as students, faculty, guest artists and members of the local community gathered to create works of art cast in iron. Dozens unleashed their artistic sides to create works of art ranging from tiles created on the spot to sculptures replicated, carved or modeled in wax.
Rian Kerrane, associate professor of visual arts in the College of Arts and Media, organized the event Thursday, March 10, at the Tivoli flagpole on the Auraria Campus. Visiting artist Toby Flores, sculptor and professor from Fort Hays State University in Kansas, facilitated the iron-pour performance.
Throughout the afternoon, the public took part in creating tiles to be cast. Carvings were coated with graphite and rubbing alcohol in preparation for receiving 2,700 degree Fahrenheit molten iron. The choreographed event included continuously placing the coke, iron and limestone in the cupola and collecting 100 pounds of molten iron every 15 minutes in ladles, then pouring the iron into the molds.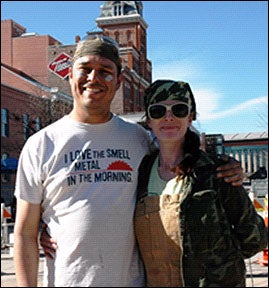 The sculpture program teaches iron casting, mold making and the lost process of wax casting. Students cast the iron into ceramic shell and bonded sand molds.
The iron pour was part of Iron Week in the College of Arts and Media, and also featured sand tile carving workshops March 8 and 9 in the Arts Building on the Auraria Campus.
Students from the CU Denver Sculpture Club guided participants through the steps of carving the tiles in preparation for the iron pour. The first 150 CU Denver students who attended the mold-making workshops were treated to a sand tile to carve. The public was able to buy tiles to carve for $10 each.
The event was sponsored by CU Denver Live!, the CU Denver College of Arts and Media and the CU Denver Sculpture Club.
See more event photos on Facebook.